At the final presidential debate Donald Trump tried to land a blow on Democratic rival Joe Biden by suggesting that purported evidence from a laptop computer links him to alleged corrupt business dealings by his son, Hunter Biden.
While the veracity of the evidence is much-disputed - initially media outlets were reluctant to cover the story due to credibility concerns - the story has been rumbling on for some time now, and the results of a new Yahoo News/YouGov poll (conducted Oct 23-25) highlight the extent to which it has cut through to the voting public. More than three quarters (77%) of registered voters say they have heard at least a little about the story, with four in ten (39%) saying they had heard "a lot".
Voters tend to think there is something fishy about the case of the laptop, with four in ten (40%) saying they think Hunter Biden has done something wrong, while 34% disagree.
The large majority of Republicans (79%) think wrongdoing has taken place, as do a plurality of Independents (46%). Most Democrats (63%) think this is not the case, however.
A separate YouGov/Washington Examiner poll (conducted Oct 26-27) finds that by a similar amount – 45% to 32% – registered voters think Hunter Biden has engaged in corrupt business dealings. Again, an overwhelming majority of Republicans think this is the case, as do a plurality of Independents, while most Democrats see no evidence of such.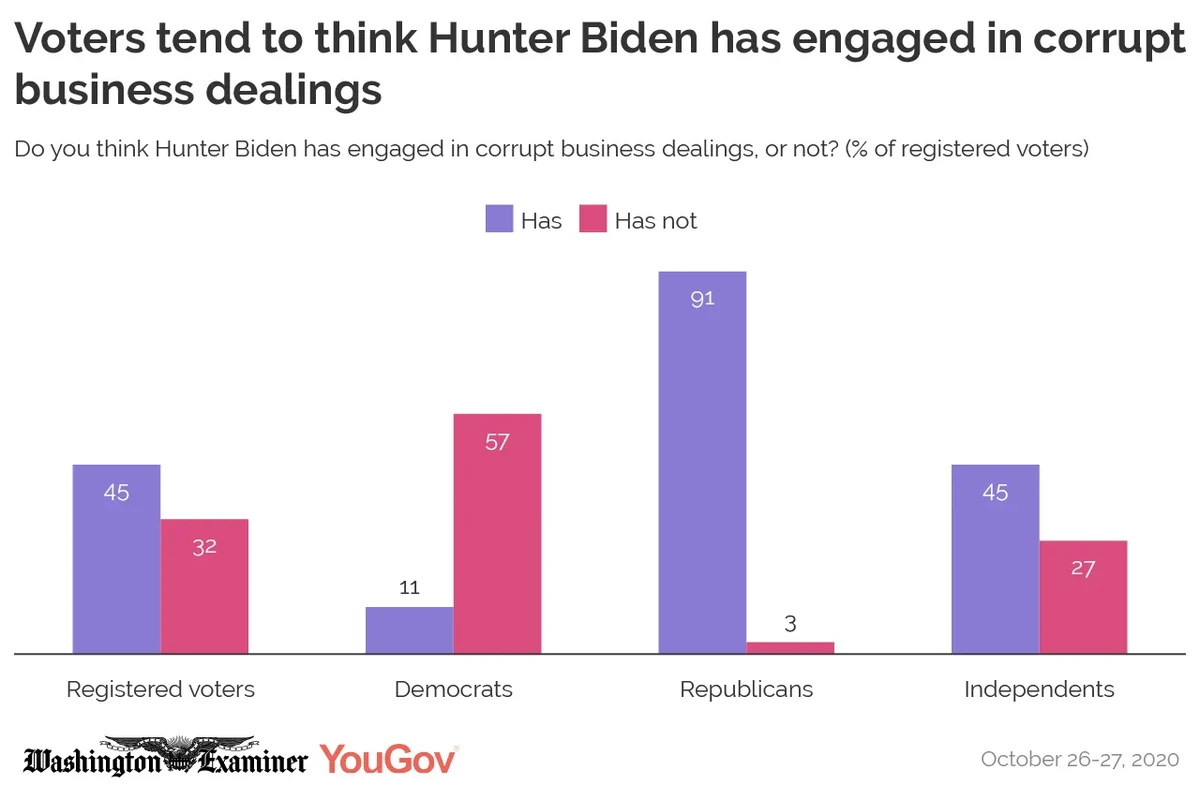 Voters in the Washington Examiner/YouGov poll are split on how important the allegations about Hunter Biden are to their vote. Two thirds (68%) of Republicans say they are "very important" to their vote, while a similar proportion of Democrats (67%) of Democrats say they are "not important at all". Independents are split – 36% say the allegations are not at all important, 30% say they are very important.
When set against the whole range of issues Americans must consider when electing the next Commander in Chief, however, Hunter Biden, his laptop and his business activities pale into insignificance.
In the Yahoo News/YouGov survey, when asked to choose the single most important of ten issues when deciding how to vote, just 3% of voters chose Hunter Biden. This puts the matter at almost the very bottom, ahead of only Russia (1%) and crime (2%), and a long distance from the economy in first place on 29%.
Even among Republicans, just 5% cite the integrity of the junior Biden as being the most important consideration for their 2020 vote.
See the toplines and crosstabs from the Washington Examiner/YouGov Poll
See the toplines and crosstabs from the Yahoo News/YouGov Poll
Methodology: The data from the article is based on a poll of 1,194 registered voters surveyed via YouGov Direct from October 26-27, 2020. This YouGov Direct Poll was weighted according to age, gender, race, education, and 2016 presidential vote. The margin of error is ±3.6%