The results of the final Yahoo News/YouGov Poll ahead of the election show that regardless of who wins the presidential election on Tuesday, the winners will be more relieved than excited — while the losers will be afraid.
Around four in five Biden (80%) and Trump (79%) supporters say they will feel "relieved" if their candidate wins, while notably fewer on both sides will be "excited" (56% of Biden supporters and 59% of Trump supporters).
Biden's supporters express stronger negative feelings about Trump winning re-election than the president's voters do about their candidate losing. Seven in 10 Biden supporters (70%) say they will be "devastated" if Trump wins a second term. More than three in five also describe their emotional state as "depressed" (64%), "afraid" (62%) or angry (62%) if Trump wins. If Biden were to defeat the president, most Trump supporters say they would be afraid (56%), although fewer than half say they will feel depressed (48%), devastated (46%) or angry (38%).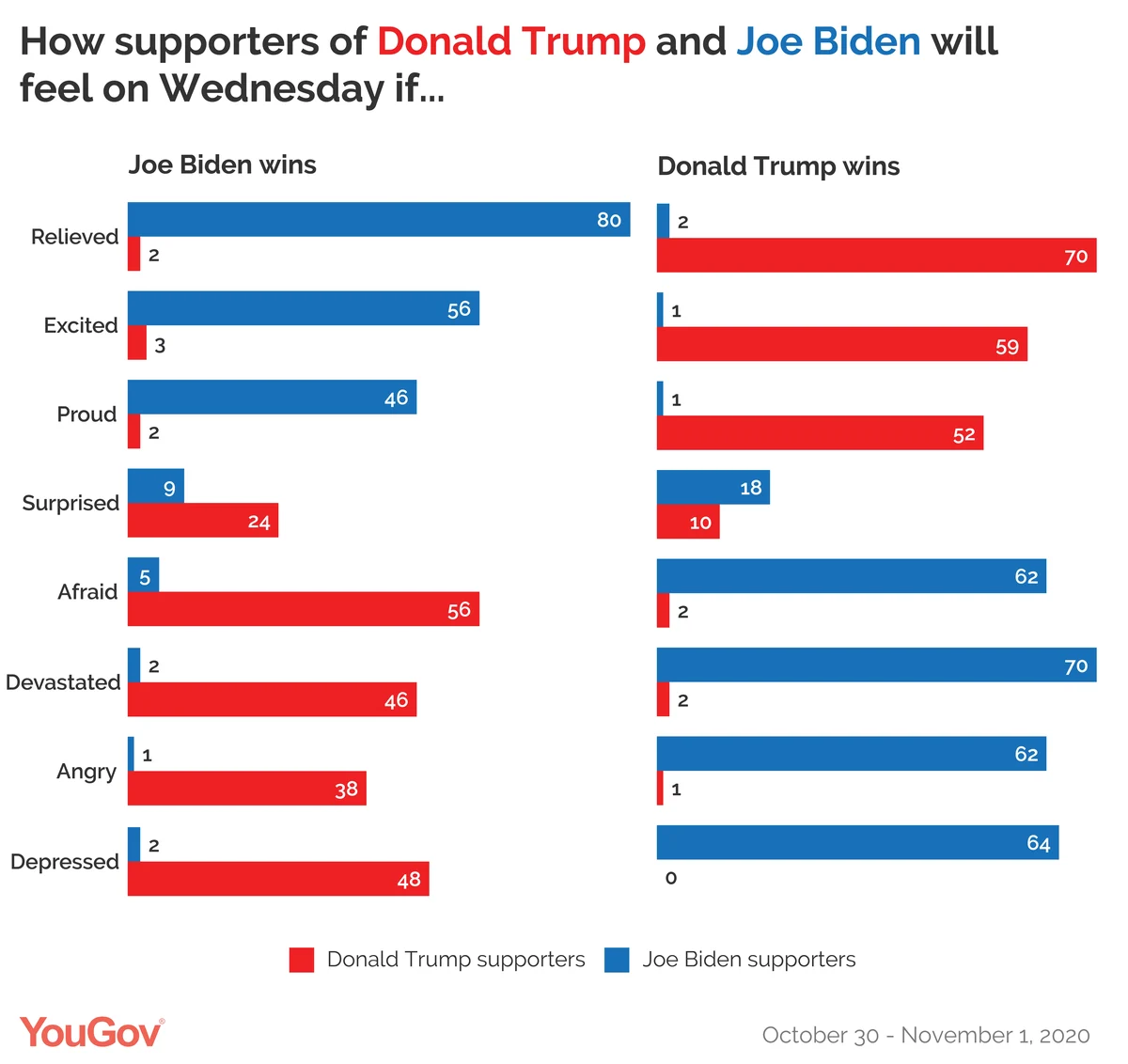 See the toplines and crosstabs from this week's Yahoo News/YouGov Poll
Methodology: The Yahoo News survey was conducted by YouGov using a nationally representative sample of 1,501 registered U.S. voters interviewed online from Oct. 30 to Nov. 1. This sample was weighted according to gender, age, race and education based on the American Community Survey, conducted by the U.S. Bureau of the Census, as well as 2016 president vote, registration status, geographic region and news interest. Respondents were selected from YouGov's opt-in panel to be representative of all U.S registered voters. The margin of error is approximately 2.9 percent.
Image: Getty