Although Wisconsin and other states have legislated against public employee unions' ability to engage in collective bargaining, Americans interviewed in the latest Economist/YouGov Poll seem willing to let those unions have the right to negotiate-- at least sometimes.

Although only 31% would allow public employee unions to engage in collective bargaining on all issues, 29% would allow collective bargaining on at least some issues. Only 17% reject public employee collective bargaining completely.


Those in union and public employee households are more supportive of collective bargaining, as are Democrats. But 47% of Republicans support public employee union collective bargaining at least on some issues.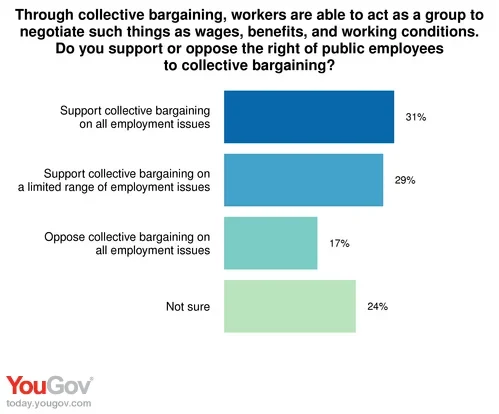 But there is some opposition even from those who could be directly affected: half of those in public employee households favor some limitations on the bargaining rights of public employee unions. 42% of those in union households agree.
Through collective bargaining, workers are able to act as a group to negotiate such things as wages, benefits, and working conditions. Do you support or oppose the right of public employees to collective bargaining?
Party
Tea Party Follower

A

48%

14%

30%

6%

36%

B

22%

37%

38%

44%

26%

C

5%

36%

20%

44%

11%

D

25%

14%

12%

6%

27%

A

43%

28%

37%

29%

B

32%

28%

35%

27%

C

10%

18%

17%

17%

D

15%

26%

11%

27%

(A) Support collective bargaining on all employment issues