The President continues to struggle when it comes to public support, but he still leads several potential 2012 Republican challengers. In this week's Economist/YouGov Poll, his approval rating is just 41%, with 51% disapproving of the way he is handling his job.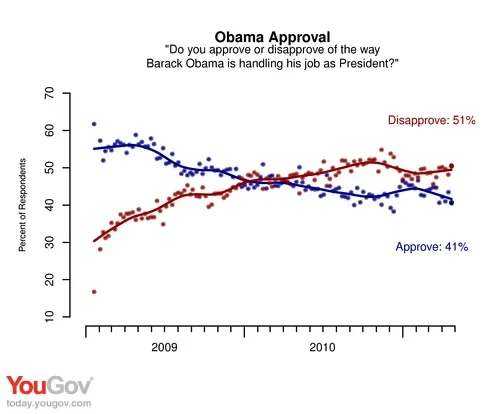 The economy remains a difficult problem for the President. In this week's poll, more than twice as many say the economy is getting worse as think it is improving. 41% say it's getting worse, up four points from last week. Just 33% approve of the way the President is handling what Americans see as the country's most important problem.

And there are other difficulties for the President. 56% of Americans don't trust him to say what he really thinks. They believe he says mostly what people want to hear.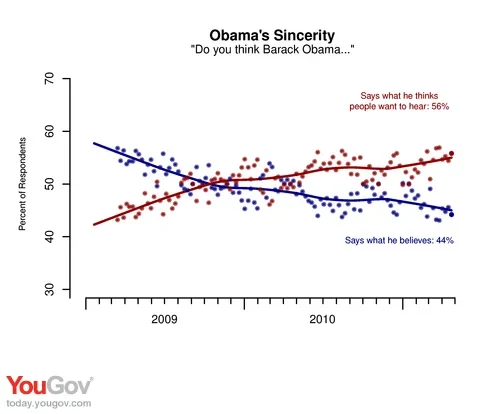 The President is still dogged by rumors that he is a Muslim, and was not born in the United States. 23% of all respondents and 42% of Republicans say he is a Muslim. 15% overall and more than a quarter of Republicans say he was not born in the United States, with about a third overall and 43% of Republicans just not sure either way. As for the claim that the President is a Socialist, 29% and 61% of Republicans say that's true. 
Please tell us whether you think the following statements about Barack Obama are true or false.
All Respondents
Republicans Only

Barack Obama is a socialist

29%

40%

31%

61%

19%

20%

Barack Obama was born in the United States

55%

15%

30%

30%

27%

43%

Barack Obama is a Muslim

23%

47%

30%

42%

25%

33%
But despite these problems, the President runs ahead when registered voters are asked who they would vote for next November if the President were pitted against each of three prominent Republicans. He runs ahead of former Massachusetts Governor Mitt Romney 46% to 37%, former Alaska Governor Sarah Palin 52% to 34%, and Donald Trump 49% to 32%.