This Sunday, Pope John Paul II will be beatified, on a fast track to becoming a saint. According to the latest Economist/YouGov Poll, American Catholics are pleased at this move, but the rest of the country isn't sure.

By 55% to 14%, American Catholics approve of declaring Pope John Paul II a saint. But the country overall is evenly divided.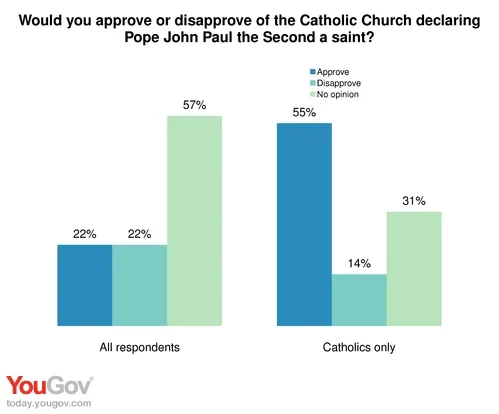 John Paul II, who served as Pope for 27 years, is popular with both Catholics and non-Catholics. The same cannot be said for his successor. Catholics have a favorable view of Pope Benedict II, but the country overall is divided. 
Do you have a favorable or an unfavorable opinion of the current and former heads of the Catholic Church?
| | | Total | Catholics Only |
| --- | --- | --- | --- |
| | Very favorable | 8% | 23% |
| | Somewhat favorable | 18% | 26% |
| Pope Benedict XVI | Somewhat unfavorable | 15% | 16% |
| | Very unfavorable | 15% | 6% |
| | Not sure | 44% | 29% |
| | | | |
| | Very favorable (2003) | 21% | 43% |
| | Somewhat favorable | 24% | 24% |
| Pope John Paul II | Somewhat unfavorable | 9% | 7% |
| | Very unfavorable | 10% | 7% |
| | Not sure | 35% | 20% |