On Tuesday night, President Biden gave his first official State of the Union address, covering the war in Ukraine, the economy, COVID-19, and many other issues. Since the start of Biden's term in January 2021, the Economist/YouGov Poll has tracked Americans' ratings of his performance — and for months leading up to the speech, more people disapproved than approved of Biden's work on a wide range of issues.
About halfway through his first year in office, the share of Americans who approve of Biden — both generally and on most issues — began to fall below the share who disapprove, and that remained the case with the latest polling data collected just before the State of the Union, some of it hours before. Only 42% of Americans approve of how he is handling his job as president, compared to 47% who disapprove. Below, we break down how Americans' views on Biden have changed across a number of issues and characteristics: how he's handling COVID-19, his strength of leadership, his ability to unite the country, and more.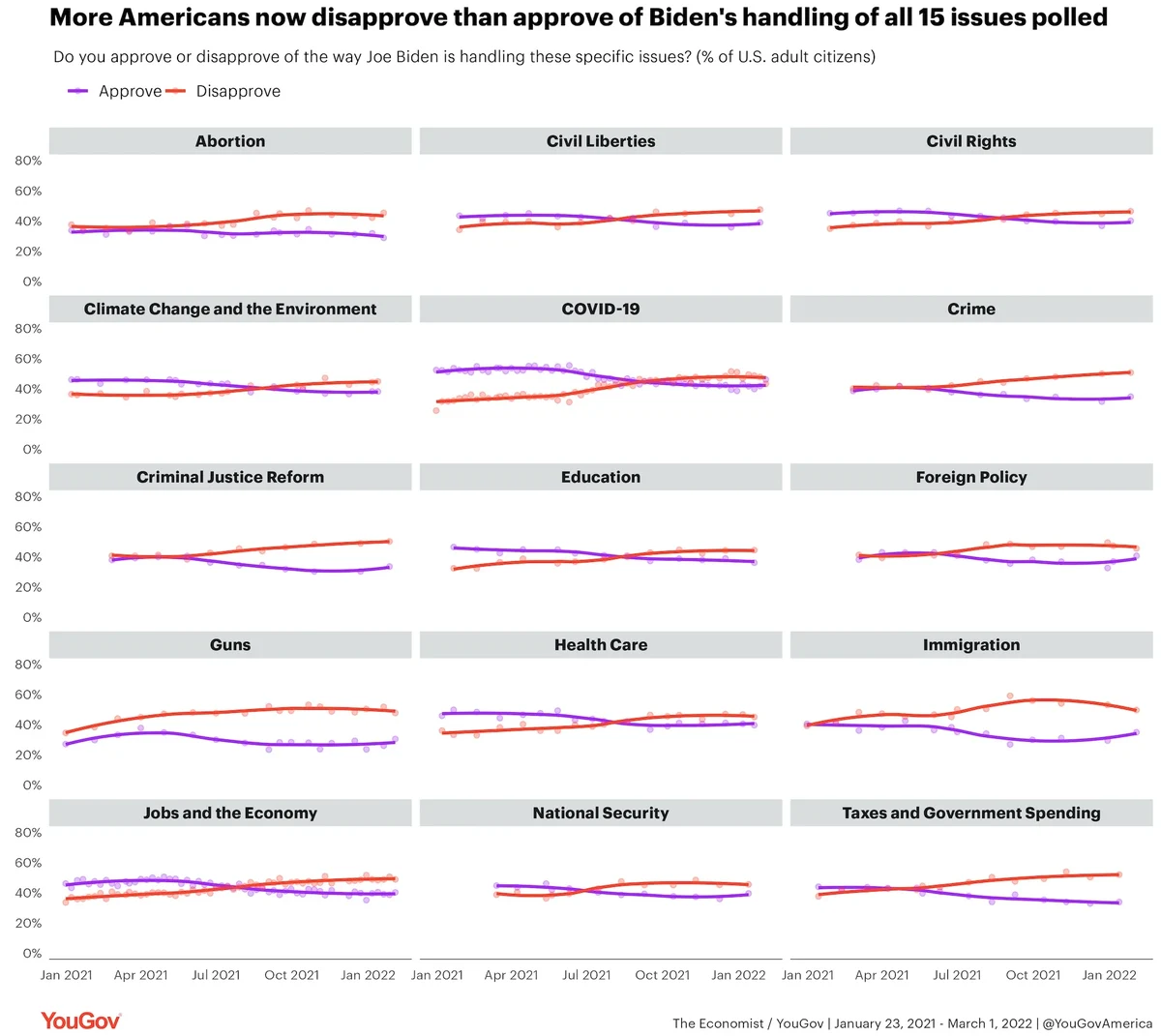 - Carl Bialik contributed to this article.
See the toplines and crosstabs from this Economist/YouGov Poll
Methodology: The Economist survey was conducted by YouGov using a nationally representative sample of 1,500 U.S. adult citizens interviewed online between February 26 and March 1, 2022. This sample was weighted according to gender, age, race, and education based on the 2018 American Community Survey, conducted by the U.S. Census Bureau, as well as 2016 and 2020 Presidential votes (or non-votes). Respondents were selected from YouGov's opt-in panel to be representative of all U.S. citizens. The margin of error is approximately 3% for the overall sample.
Image: Getty