On Monday evening, news outlets reported that a leaked draft of a Supreme Court decision indicates that the Court has voted to overturn Roe v. Wade, the 1973 landmark decision which established a constitutional right to abortion. The next morning, YouGov fielded a poll asking Americans their reactions to this news. Nine in 10 said they'd heard about the leak, and many reported feeling outraged and saddened by the news; a far smaller share said they felt happy or even thrilled. About half of Americans say they plan to take some form of civic action in response to learning of the Court's intention to overturn Roe v. Wade.
Before providing Americans with a list of emotions to choose from, we asked them to tell us their reaction to the news in their own words. The word clouds below show the relative frequency of words used in open-ended responses to this question among people who oppose and support overturning the decision.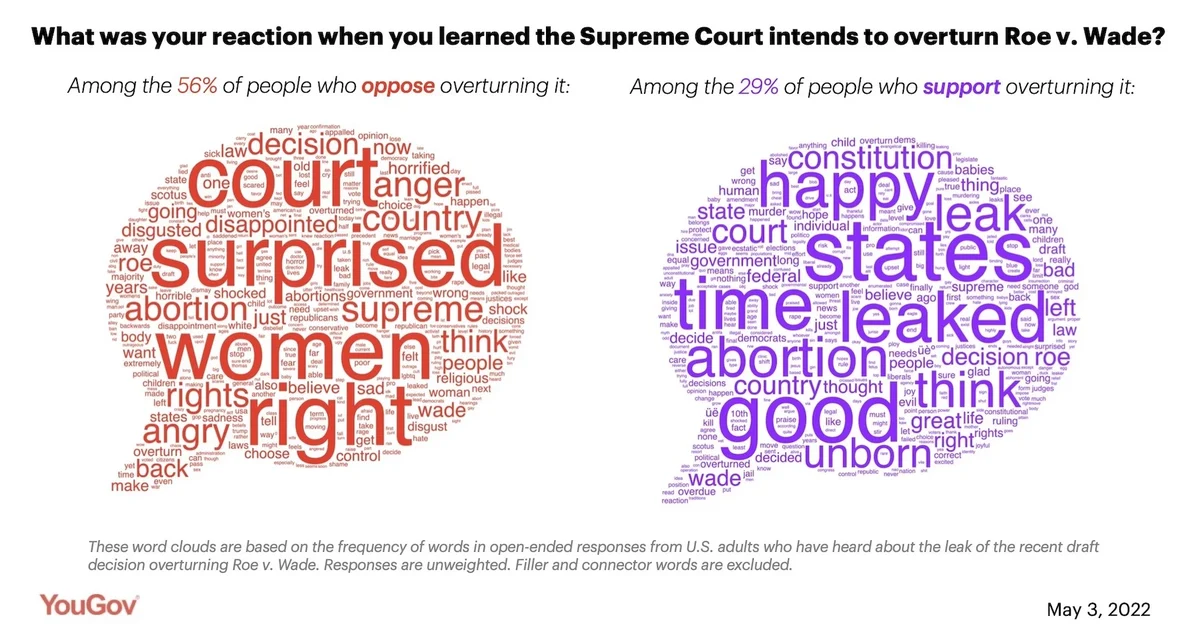 The quotes displayed below are selected from responses to the same question, among people who oppose overturning the landmark abortion decision — a position held by 56% of Americans, according to our poll. Many describe feelings of disgust, fury, heartbreak, and disappointment. A number of people say they cried or felt physically ill when they heard the news. While some say they were shocked by the Court's initial vote, others say the announcement came as no surprise.
Reactions frequently focused on the way the ruling will affect women's lives and bodily autonomy, and many lament that the country is backsliding on women's rights. Some parents express fear over the type of society their daughters will grow up in. One person says that she is currently trying to get pregnant and is scared of what will happen if the pregnancy doesn't go according to plan. In terms of assigning blame, many point fingers at Republicans and the religious right, and others attribute the development to political bias in Supreme Court appointments.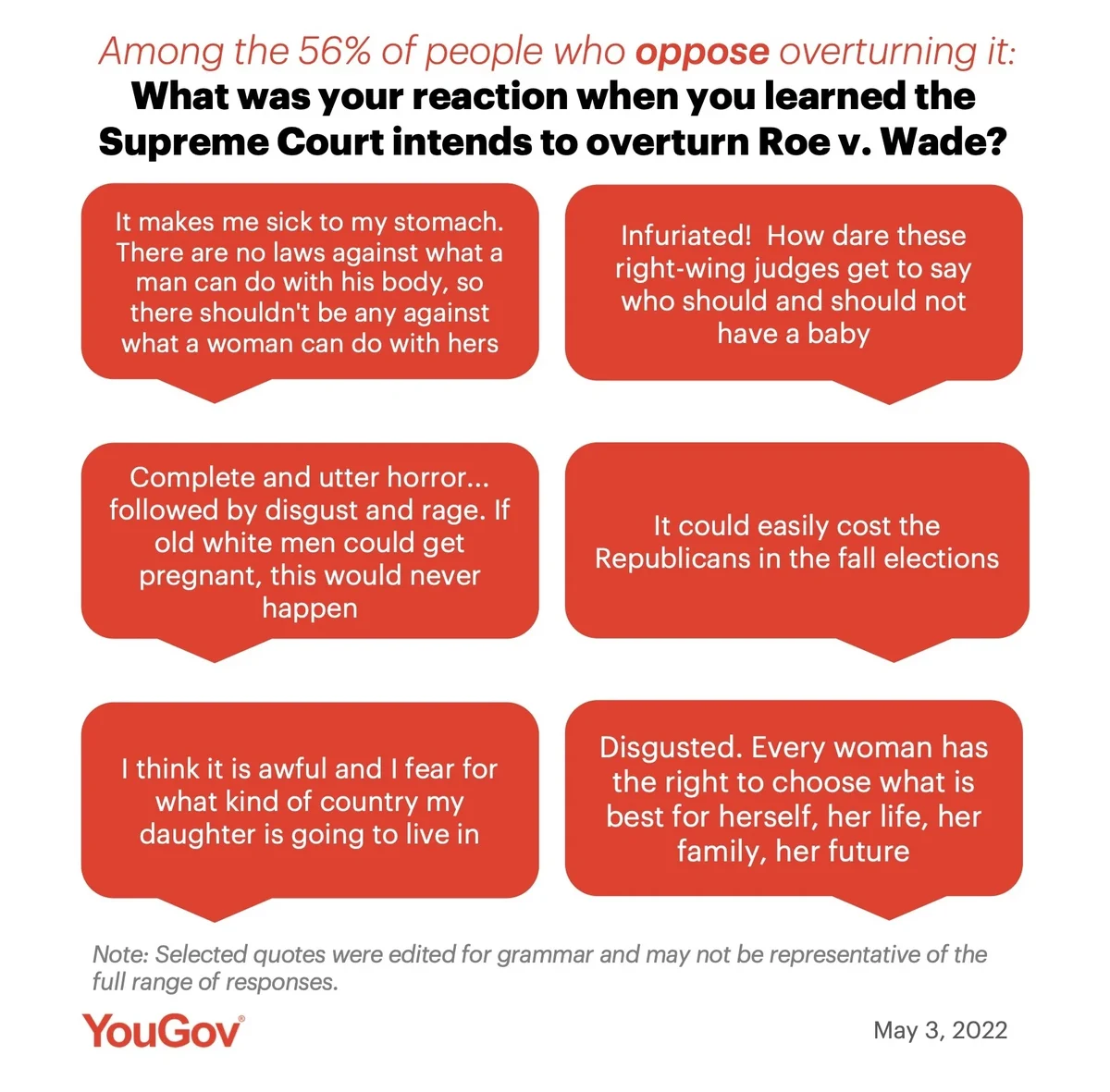 Reactions from the 29% of Americans who support the Court's decision to overturn Roe v. Wade are far more optimistic, with many saying they felt joy and relief upon hearing the news. However, not all people who oppose the landmark abortion decision are pleased with the recent development. A significant share of responses focus on the leak itself, rather than the implications of the leak's contents. Many people are appalled and outraged that the draft decision was leaked to the press, and some call for investigating the leak and prosecuting the leaker.
Some say they suspect the Court's decision was leaked with the goal of motivating pro-choice voters in order to give Democrats a boost in the upcoming midterm elections. Many people who oppose Roe v. Wade say their opposition is rooted in a conviction that states should be the ones to make decisions about the legality of abortion, rather than the federal government. Others say their satisfaction with the ruling is tied to their moral stances on the issue, and their view that abortion is equivalent to murder.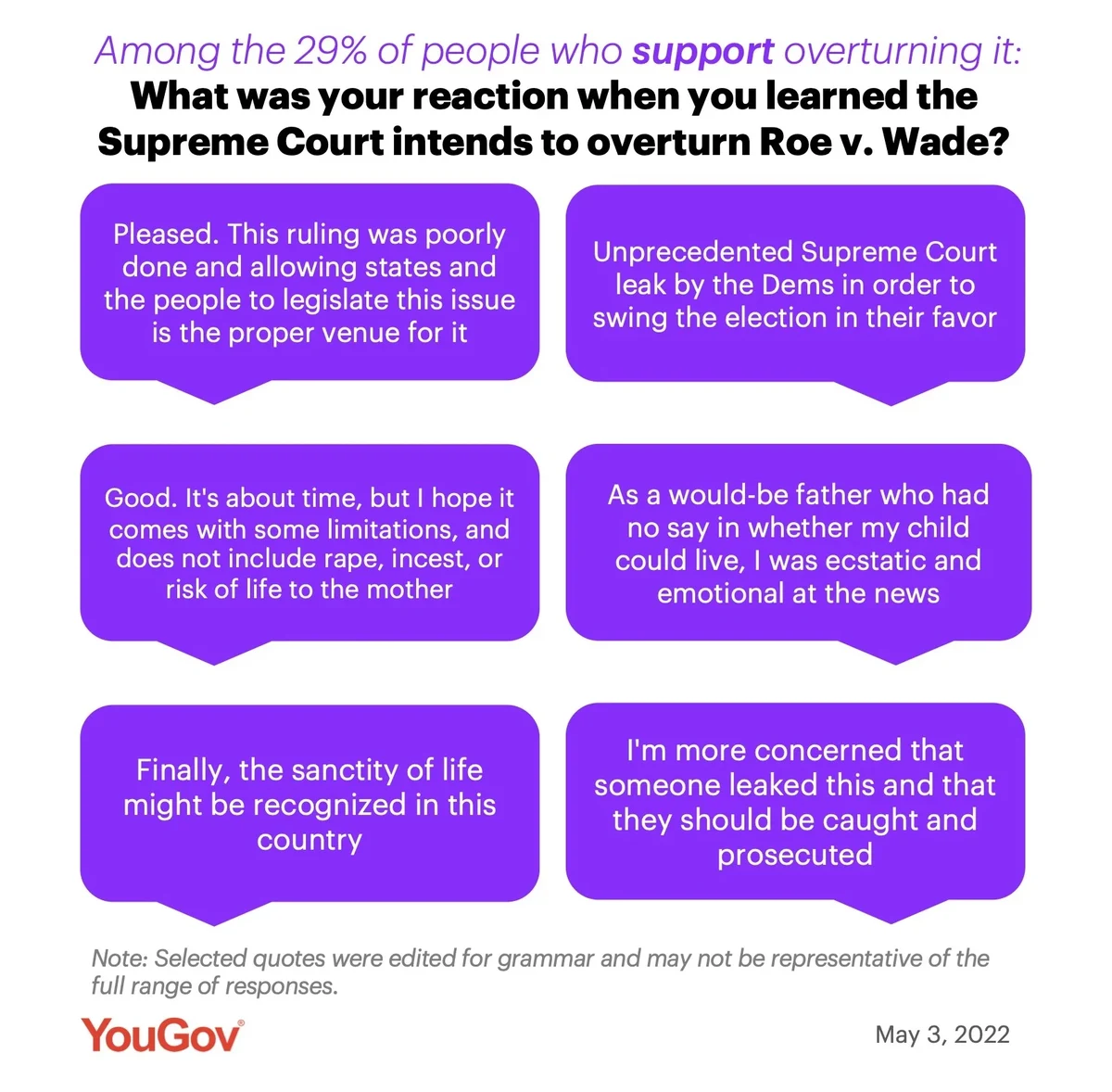 When asked to select from a list of emotions, 40% of Americans who've heard about the leak say they are outraged by the Court's plan to overturn Roe v. Wade, while 38% are angry, 32% are sad, and 25% are surprised. Fewer say they're happy (18%), grateful (16%), relieved (14%), or thrilled (13%).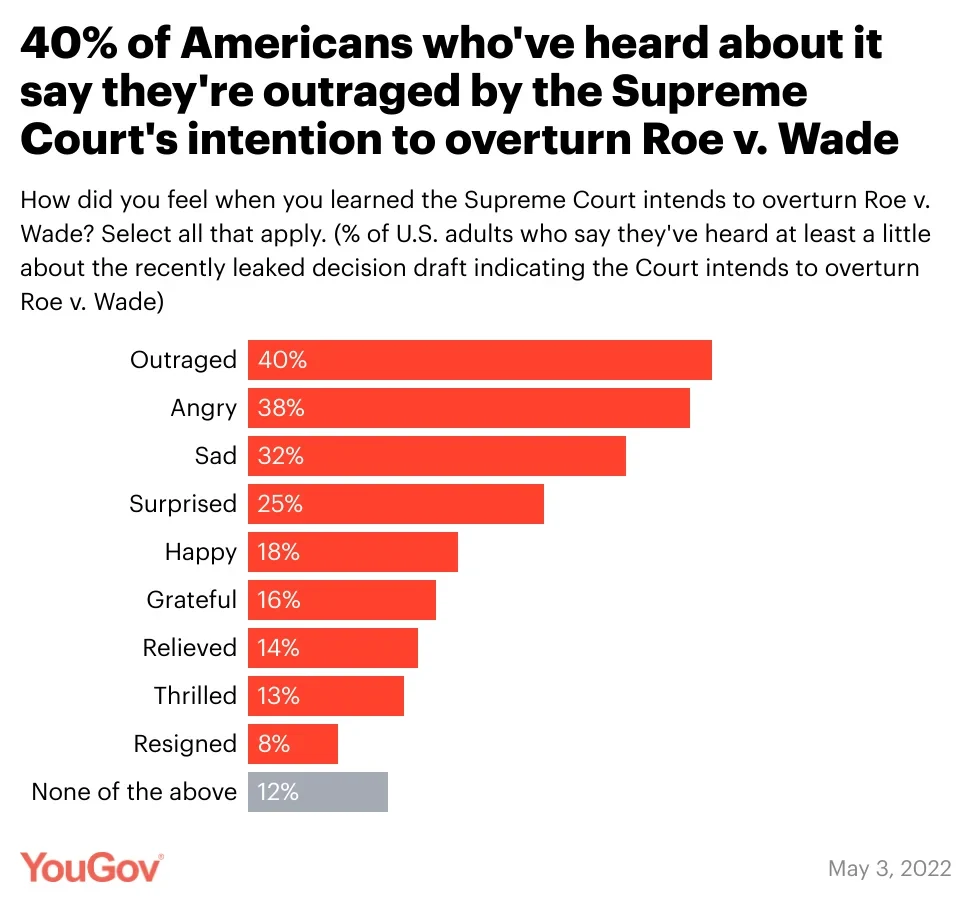 Two in three Americans (66%) say it is very likely that there will be mass protests if the Supreme Court overturns Roe v. Wade. Only 5% say mass protests are not very or not at all likely.
Slightly over half of Americans (53%), including two-thirds (68%) of those who support Roe v. Wade, say they plan to take at least one civic action (among eight asked about) in response to the Court's intention to overturn nationwide abortion rights. Among the actions Roe v. Wade supporters say they're most likely to engage in are: signing a petition (50%), talking to friends and family (41%), calling or writing their representative (34%), and going to a protest or rally (32%).