The "generation gap" that first made news in the 1960's is still around — at least when it comes to most beliefs about marijuana. In the latest Economist/YouGov Poll, those over 65 are much more likely than those under 30 to think marijuana is addictive, leads to the use of harder drugs, and that easing access will harm society. 
What is your opinion on the following statements?
Agree
Disagree

Marijuana is a "gateway drug," meaning it leads

38%

36%

54%

37%

35%

27%

Marijuana has medical benefits

65%

61%

62%

12%

14%

12%

Marijuana is addictive

47%

41%

65%

27%

32%

12%

Easing access to marijuana will harm society

33%

31%

47%

45%

49%

33%

Marijuana should be allowed for medical purposes

67%

61%

67%

14%

15%

12%
There is no generation gap, however, when it comes to acceptance of the use of marijuana for medical purposes. More than six in ten of both old and young believe the drug has medical benefits and should be allowed for medical use.

Most Americans would keep both users and sellers of marijuana out of jail. A third would jail sellers; just 16% would jail those found in possession of the drug. However, 45% of those 65 and older would jail sellers.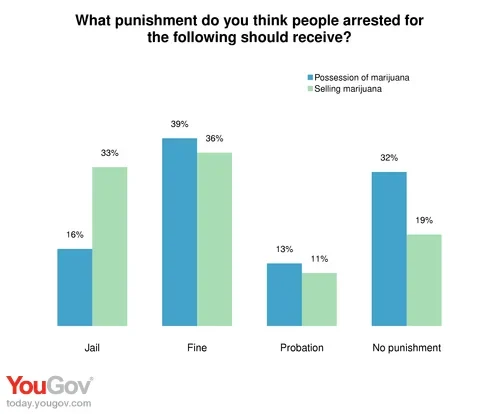 The baby boom generation only began to turn 65 this year, and this poll suggests that the attitudes of senior citizens may change as they do. The opinions of those between the ages of 30 and 64, the group that includes nearly all the boomers, look very much like the opinions of those under 30, and not at all like the views of senior citizens.

Those 65 and older are far less likely than those younger to admit they have personally tried marijuana. Just 17% of senior citizens say they have; more than twice as many of those under 65 have. 
Full datasets for Economist/YouGov polls can be found here.
Photo source: Press Association