Americans view the story of Rep. Anthony Weiner (D-NY) sending suggestive photographs to women as one of marital cheating, and 60% in the latest Economist/YouGov Poll think he should resign over the scandal. But most don't see this type of scandal as being all that unusual for politicians, or something that happens only to Democrats.

Sexting — sending sexual communications over the internet to people outside a person's marriage — is seen by 53% of Americans as cheating on that marriage, even if no physical contact occurs. It is more likely to be seen that way by women, 60% of whom called sexting cheating.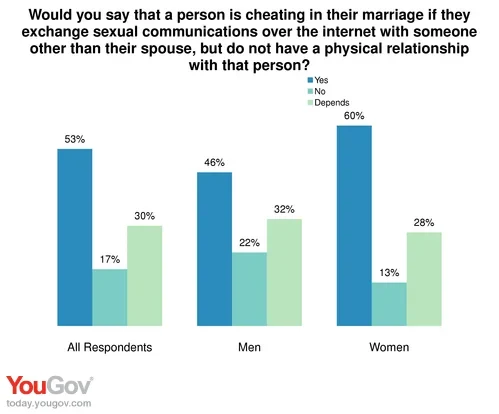 Rep. Weiner is a Democrat, and more Republicans say they view sexting as a serious matter. 67% of Republicans, as compared to 48% of Democrats, view sexting as cheating.

But marital cheating is something that politicians in both parties do, according to the vast majority of Americans. 85% believe there is no party difference when it comes to politicians being unfaithful to their spouses. And only 14% think this is something that only a few politicians do: three in four say cheating is done by more than a few political figures, 32% say most politicians cheat on their marriages. While a third say they would NOT vote for a presidential candidate who had an extra-marital affair, about the same percentage say they would, and another third are not sure.

Nearly nine in ten Americans admit they have heard about the case of Rep. Weiner (more than say they have heard about the Libyan uprising). Americans have one suggestion for Weiner: resign. By two to one, the public overall favors his resigning from the Congress. Democrats are more closely divided on this, but just about half of them also think he should resign.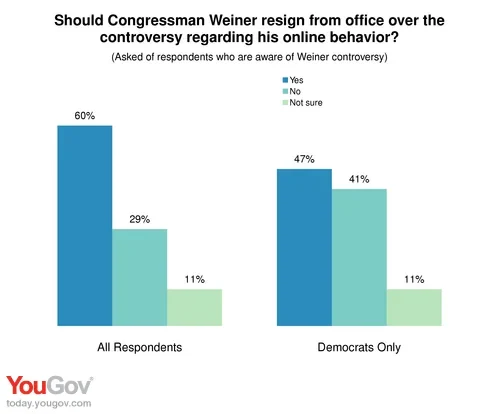 Americans have formed an overall opinion of Weiner, and it isn't good. Just 15% have a favorable view of him, 60% do not. 48% of Democrats are unfavorable.

The amount of media attention (or over-attention) to a story is often seen through a partisan lens. In this poll, Democrats are much more likely than Republicans to think the media is over-covering the story. In fact, Republicans think the story is getting the right amount of attention. But when it comes to covering Sarah Palin (whose emails as Governor of Alaska were released last week), Republicans overwhelmingly see the media as paying too much attention to that. Democrats agree that there has been too much media attention on Sarah Palin. 
Do you think the news media are paying too much or too little attention to the Anthony Weiner controversy? Asked if respondent is aware of the Weiner controversy
Party

Too much

56%

68%

35%

56%

About the right amount

31%

23%

48%

27%

Too little

8%

2%

14%

10%

Not sure

6%

6%

3%

6%
Would you say the news media have paid too much or too little attention to Sarah Palin?
Party

Too much

72%

77%

71%

74%

About the right amount

14%

11%

16%

14%

Too little

5%

3%

7%

4%

Not sure

9%

9%

5%

7%