John F. Kennedy has the most positively rated presidency among the men who have served in the Oval Office since 1900.
Last month, before the media started to focus on the 50th anniversary of the assassination of President Kennedy, an Economist/YouGov poll asked Americans to rate every President since 1900. 60% of Americans rated JFK as a "great" or "near great" President, while only 6% rated him "below average" or a "failure". Kennedy's 60% was the highest above average rating for a President in the survey.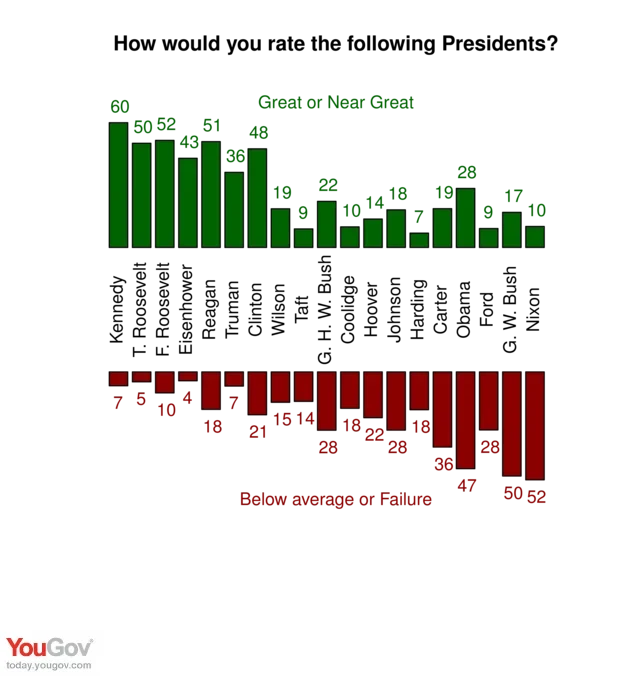 When compared to the other presidents in the survey, Kennedy enjoyed the largest positive net difference between those who rated his presidency above average and those who rated it below average. In contrast, Americans were considerably more divided in their opinions of the two most recent occupants of the White House. Only 17% gave President George W. Bush positive ratings, and 50% rated his presidency below average. The current President, Barack Obama, fared slightly better than President Bush with 28% giving him above average marks and 47% rating him below average. Leaving both men with overall negative net differences in positive and negative ratings.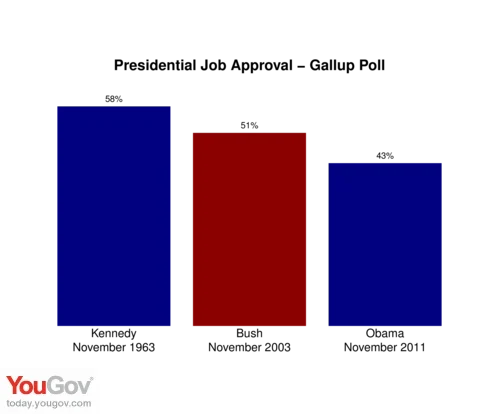 While there is a temptation to attribute President Kennedy's high marks as a by-product of sympathy over his assassination, the historical record along with the comments made by the people taking the poll suggest there is more to his high ratings than just the shocking manner of his death. First of all at the time of his death, President Kennedy was very popular. In the last Gallup Poll taken before his assassination, November 8-13, 1963, Kennedy enjoyed a 58% job approval rating. To give that rating some context, in the Gallup Poll taken October 31-November 6, 2011, at about the same time period in his presidency, President Obama's job approval rating was only 43%.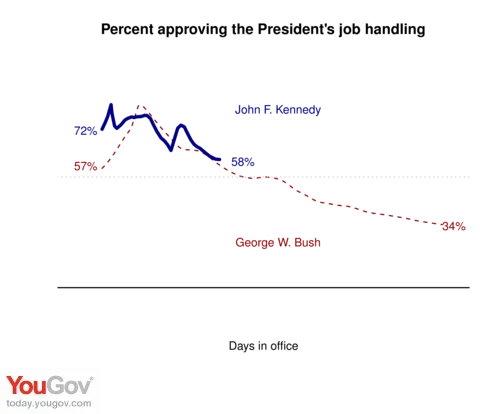 Clearly, Kennedy's early death prevented the natural decline in popularity that most presidents face. In fact, at the time of his death, Kennedy's approval rating was declining. 58% was nearly his lowest recorded approval rating. His violent murder robbed JFK of the opportunity to make the kinds of mistakes that sours public opinion. For example, in the November 10-12, 2003 Gallup Poll, George W. Bush enjoyed a 51% job approval rating. Yet over the subsequent years of his presidency, Bush's approval rating plummeted to just 34%.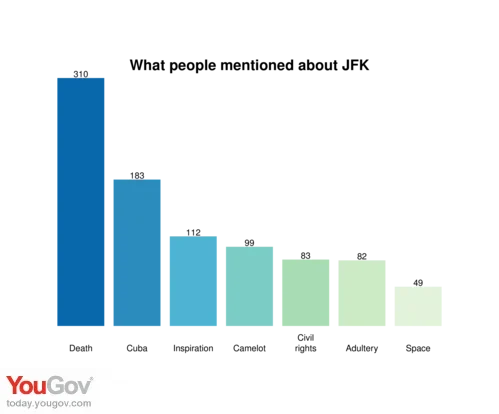 It is impossible to remove the fact of Kennedy's assassination from the minds of people. It is true that when asked what they remember about John F. Kennedy, his assassination was the most frequently mentioned item. However, their responses also highlight that people are aware of more than just his death. They also considered the actions and accomplishments of his administrationas well as his private life. More importantly, they are aware of both the positive and negative aspects of his time in office.
For example, there were 183 mentions of Cuba. More than half of those mentions dealt with the Cuban missile crisis alone. The rest spoke about the failed Bay of Pigs invasion. The assassination did not stop people from expressing both positive and negative evaluations of President Kennedy. One person said, "The Bay of Pigs was a disaster and could have been handled better. The Cuban Missile crisis was good for him when he stood up to the USSR. " While another remarked, "I do think he was important to history in his handling of the Cuban issues."
Kennedy also gets a lot of credit for advancing civil rights. Unlike with recollections of Cuba, the comments were uniformly positive evaluations of his administration's role in assisting the nascent civil rights movement. One person remembered, "a lot but primarily his civil rights accomplishments." Another said that Kennedy, "wanted to ban segregation and he was for civil rights." A different person called Kennedy the "leader of the civil rights movement." And yet another called him a "Civil Rights Martyr."
There were a significant number of Kennedy memories that were strictly negative. Allegations of adultery were numerous. A few people made oblique references, like the person who wrote, "he was immoral." Some simply acknowledged rumors of affairs; for example one person remarked that "He was rumored to have many affairs." Others were more di- rect, "he philandered with Marilyn Monroe." For more than one person, the President's personal life was extremely problematic, "womanizing (for me it overshadowed everything. I was young and uninspired by his morals)." However, many viewed his alleged indiscretions among other points. One person summed him up this way, "He lowered taxes, sent military advisors to Viet Nam, and hooked up with Marilyn Monroe." While another said Kennedy was a "womanizer and inspiring speaker with a rumored curse on his family. Most remember him fondly. He would have been great, had it not been for his untimely death."
People remembered different facets of Kennedy; for many he is fondly remembered for the way he inspired people. His speaking abilities were mentioned frequently as were general comments about him inspiring them. Even more specifically, they credit him with inspiring the nation to achieve great feats in space exploration, especially landing on the moon. One person said "He was also the President that brought us to the moon." Another person remembered that Kennedy had convinced "the people and the government that we could put a man on the moon."
There were many mentions of Kennedy's family, both the one he shared with Jackie Kennedy as well as the larger Kennedy clan. While the Kennedy family name is mentioned many times it wasn't always a positive mention. Camelot was mentioned by many, but so were accusations of nepotism. This respondent said, "I remember pictures of him and his brother Robert and the controversy about him naming Robert as attorney general." One person remembered "a young president having a pretty wife and his children." Another said, "his time in office was thought of and spoke of as Camelot." Someone else rejected that notion when he said, "Camelot was nonsense. He had few if any accomplishments." Yet another person remebered Kennedy as "the son of a Boston politician whose career was tainted by allegations of corruption."
The poll revealed that Americans have a more complete picture of President Kennedy than we might cynically think otherwise. Kennedy is more than just Camelot and a tragic motorcade in Dallas. Americans are aware of his personal failings as well as both his policy triumphs and failures. In short, John F. Kennedy was a popular president who was not afforded the chance to damage his own popularity.
Full results can be found here.
Economist/YouGov poll archives can be found here.