78% of voters say Nick Clegg is doing badly as leader of the Lib Dems and only 13% say he's doing well, his worst ratings to date
Following the party's heavy losses in the European elections, in which the Liberal Democrats came fifth place and lost 10 of their 11 MEPs, some senior Lib Dems have called for the resignation of party leader Nick Clegg. The Deputy Prime Minister has so far held his ground, even amid an attempt by Lord Oakeshott, a close friend of Vince Cable, to unseat the Lib Dem leader. Lord Oakeshott has since resigned as a Liberal Democrat peer.
YouGov tracks public perceptions of the three major party leaders every week for the Sunday Times, and the latest survey has Mr Clegg's leadership rating at a dismal net -65, his lowest ever.
78% of voters nationally, including nearly half (47%) of Lib Dems, say Nick Clegg is doing badly as leader of the Lib Dems. Only 13% give him good marks, the lowest positive rating seen by any of the party leaders over the last four years.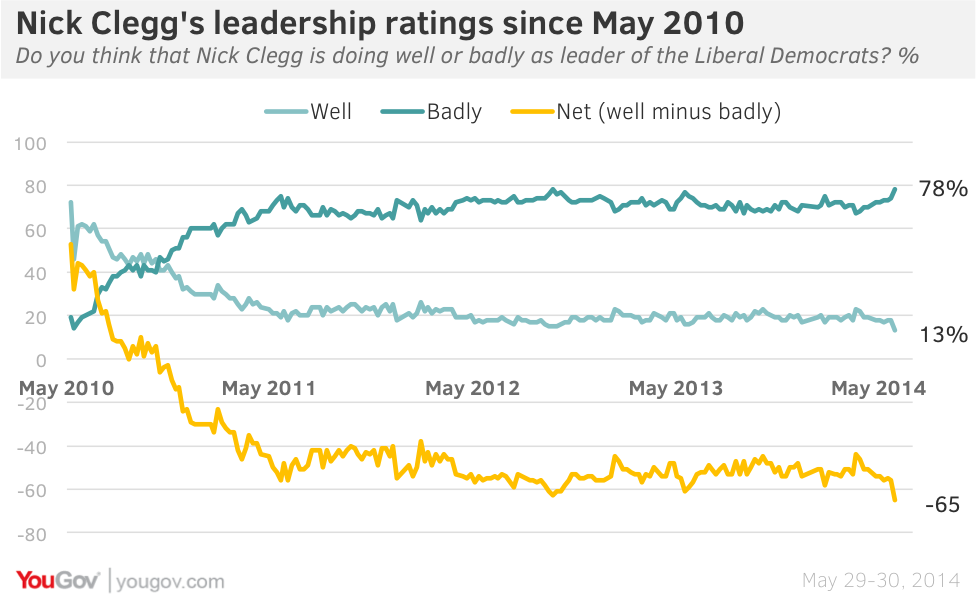 YouGov tracked leadership ratings on a monthly basis before May 2010. Between January 2008 and April 2010, Mr Clegg never scored below net -9.
His previous low-point occurred in September 2012, when the Liberal Democrat was forced to apologise for breaking his party's pledge on tuition fees. Then, as now, 78% rated him badly and 15% rated him well, for a net rating at -63.
None of the leaders of the major parties have ratings in positive territory. Only 22% of voters say Ed Miliband is doing well as leader of the Labour party, while 68% say he's doing badly. This is a slight drop in support from last week (24-65%), before the European election results had been announced. David Cameron's numbers have held steady at 42% well to 52% badly.
Mr Clegg will almost surely face more questions about whether he is well-suited to lead the Liberal Democrats into next year's general election, but some of the party's most senior figures have also come to his defense. This week Treasury minister Danny Alexander and Business Secretary Vince Cable – both of whom are often mentioned as possible successors to Nick Clegg – have expressed support for the party leader and strongly condemned attempts to undermine him.
Image: Getty
See the full Sunday Times results