The majority of women feel the media holds them to unrealistic beauty standards
Makeup shamers, as beauty guru NikkieTutorials recently explained in a YouTube video, are those who try to make others feel guilty or inferior for enjoying cosmetics – they believe women wear makeup because they are too insecure not to or are just thirsty for the male gaze.
New YouGov data suggests that makeup shaming may be just as prevalent as NikkieTutorials reports. The majority of US adults (55%) feel that women mainly wear makeup in order to trick people into thinking they're more attractive – specifically, 63% of men feel this way. Similarly, 43% of Americans agree that women wear too much makeup.
In contrast, despite internet claims that beards may act similarly to makeup, only a third of individuals (36%) think that men mainly grow beards in order to hide facial imperfections like acne or a weak chin.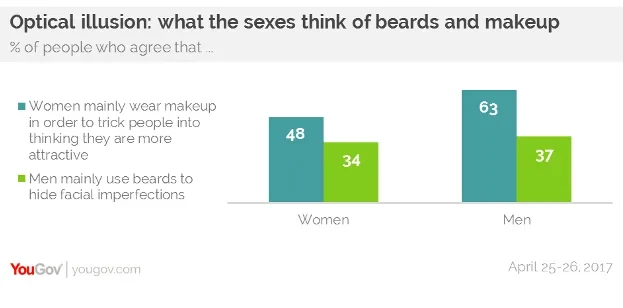 Society also seems eager to curb body-shaming, a phenomenon that is growing in part due to social media and the accessibility of online magazines. In an attempt to erase the stigma that there is only one way a woman's figure should look, an increasing number of popular brands have started including diverse, body-positive models in their campaigns.
Yet, despite this shift away from traditional modeling norms, a recent YouGov poll shows that the majority of women (53%) strongly agree that the media holds them to unrealistic beauty standards. A mere 2% strongly disagree.
Men, on the other hand, are a bit less convinced. Under a third of males (30%) strongly agree that the media presents women with impracticable criterion for their looks.
Full 2017 survey results available here
LIVE SURVEY RESULTS