Meanwhile, brands still miss the mark on authentic connection to lesbian, gay, and bisexual consumers.
Nationwide acceptance for same-sex marriage since the 2015 Supreme Court ruling is rising each year. A new study from YouGov also suggests that while society has grown to more widely support equal marriage rights, brands may still be missing the mark when it comes to making a genuine connection with LGB consumers.
As America inches ever forward toward embracing its own diversity, branding and advertisement have, in recent years, begun to reflect this shift and feature more diverse family types as well as LGB-friendly themes. YouGov polled respondents from the lesbian, gay, and bisexual communities to gain a better understanding of how this kind of branding and advertising are received by those toward whom they're targeted.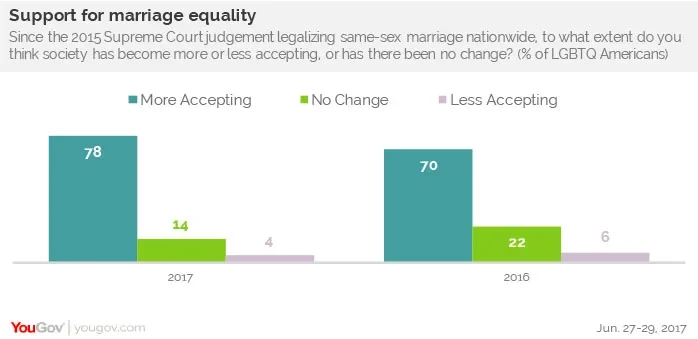 YouGov asked LGB respondents to what extent they think society has become more, or less accepting since the 2015 Supreme Court ruling legalizing same sex-marriage nationwide. In 2016, a total of 70% of respondents answered, 'More accepting'. In 2017, this figure rose to 78%, with an 8-point reduction in those who answered that there has been no change since the ruling.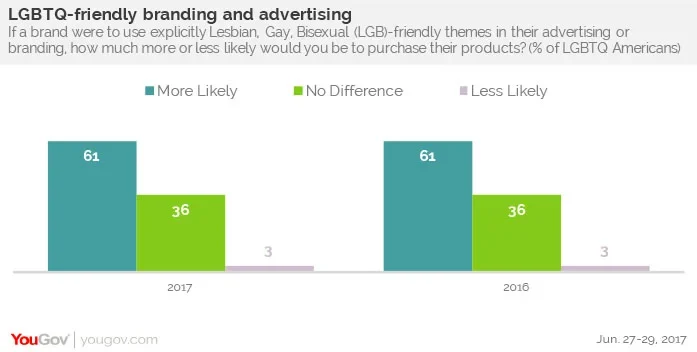 As to whether the presence of explicitly lesbian, gay, or bisexual-friendly themes in a brand's advertising and branding have the power to influence purchasing behavior, for 36% of respondents, the answer is no—it makes no difference. However, for 61%, advertising and branding that connect directly with the LGB community is in fact more likely to win their business.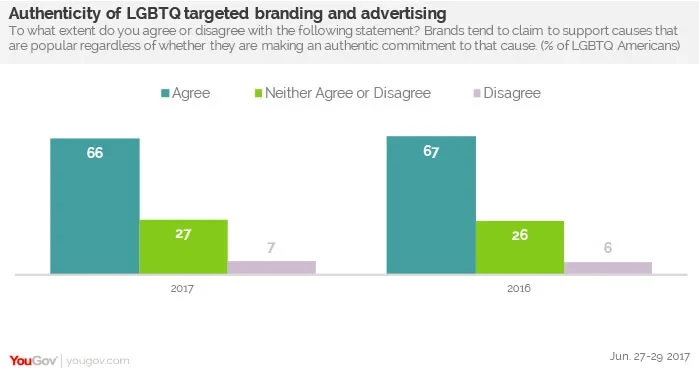 With 78% of respondents agreeing that society has become more accepting of equal marriage rights, and 61% confirming that LGB-friendly advertising has influence on their buying behavior, it's no surprise that brands are taking aim. Still, a significant portion of consumers remain unconvinced of the authenticity of brands' purposed alignments with LGB themes and interests. In fact, 66% of LGB respondents agree that brands tend to claim to support causes that are popular, regardless of whether they are making a genuine commitment to that cause.
Still, even if the intentions of big advertising campaigns directed toward the LGB community remain somewhat shrouded, the emergence of such campaigns is at least a reflection of a growing national acceptance of America's diversity.
See full results here.