1 in 4 Americans wish Medieval capes and cloaks were still in fashion
Clothing trends inevitably come, go, then somehow circulate their way back into style. It's only a matter of time before we see the rebirth of garments from some pretty iconic eras – perhaps even a few from the good ole days of yore. A new study using data from YouGov Omnibus explores what fashions from two archetypal eras – Medieval and Victorian – Americans would like to see return.
When presented with a list of Medieval accessories and articles of clothing, one in four respondents selected "capes and cloaks" as the item of attire they wish people still wore on a daily basis. From there, men and women were divided on their preferences. For example, 20% of women would love to see dresses with long trains come back into style, in comparison to only 6% of men. Data shows that men, however, are most interested in feathered hats returning to the mainstream (13%).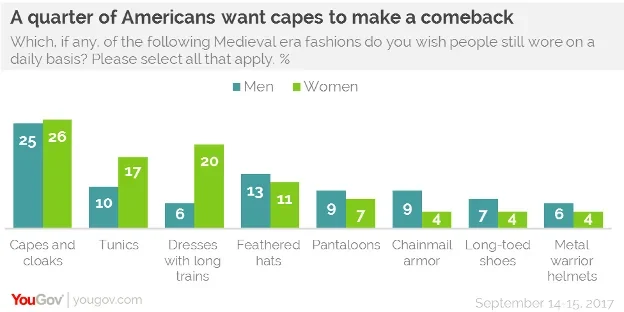 Respondents were asked the same question in regards to Victorian dress. This time, the most popular item on the list was pocket watches, with a quarter of men (25%) and 18% of women wishing the timepiece was once again trendy. Men were also more likely than women to want to see top hats in style: 23% to 12%, respectively. Women, however, liked the idea of wearing gloves in all seasons (16% in comparison to 11% of men).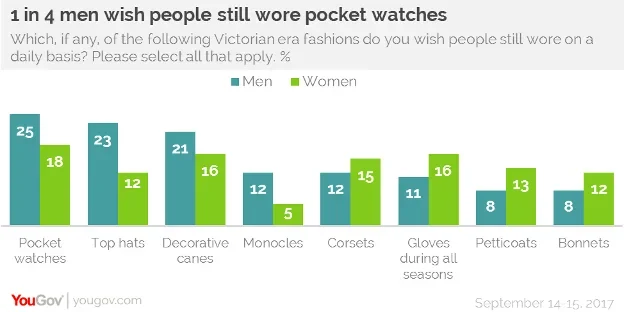 In the end, however, Victorian garb won favor among US adults – one-third of respondents (33%) would prefer this era to circulate back into fashion rather than the Medieval (17%).
Learn more about YouGov Omnibus
Photo: Getty