Half of Americans now say they believe in ghosts
With Halloween just around the corner, some Americans take a moment to look toward the supernatural, the otherworldly – and for some, even the ghostly. A belief in spirits dates back far beyond recorded history and shows no sign of diminishing from the hearts and minds of humanity.
A recent study from YouGov Omnibus asked Americans about their level of belief in ghosts, in an effort to track how opinions have changed over the past several years. Since 2015, American belief in ghosts is on the rise.
In 2015, 20% of respondents said they strongly agree that ghosts exist; another 23% said they somewhat agreed. This month, when asked the same question, the number of those who strongly agreed rose to 24%. Those who somewhat or strongly disagreed decreased by 3% and 1% respectively. Meanwhile, those who said they didn't know dropped 5% in 2016, but rose several points to 18% in 2017, suggesting a slight but overall declining trend of those not sure about their belief in ghosts.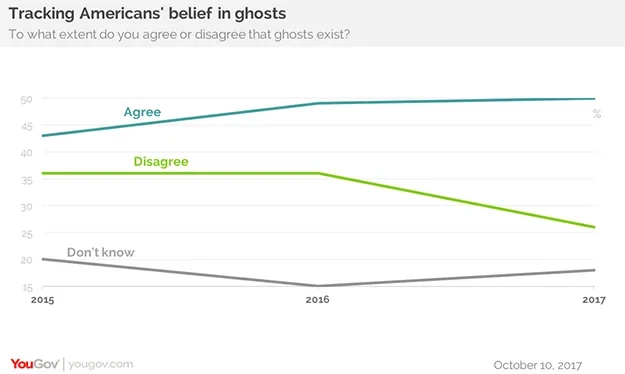 Despite the myriad of technological advances, half of Americans maintain belief in ghosts in 2017 – suggesting that our belief in the supernatural is here to stay.
For more, read Full Results here.