But 33% of men don't consider access to affordable feminine hygiene products a right
Earlier this month, California Governor Jerry Brown signed a bill which requires all schools with low-income students to supply students in grades 6 to 12 with free tampons and pads. This legislation comes on the heels of similar laws put into play in 2016 by Bill de Blasio, mayor of New York City.
While access to feminine hygiene products in schools has become a hot-button issue over recent years, not everyone is onboard with the change. According to new data from YouGov Omnibus, a quarter of US adults (25%) disagree that tampons and pads should be available free of charge in all school restrooms.
Movements for affordable feminine hygiene products are not limited to the educational sector, however. Larger groups, like Free the Tampons, stress that pads and tampons should be treated as restroom necessities – much like toilet paper or soap. One of the main objectives of these organizations is to make tampons and pads available and free in all public bathrooms. 50% of women – but just 36% of men – agree with this end-goal. It should come as no surprise that so many women feel this way given that over a third (38%) have found themselves in a situation where they needed a tampon or pad and didn't have convenient access to one.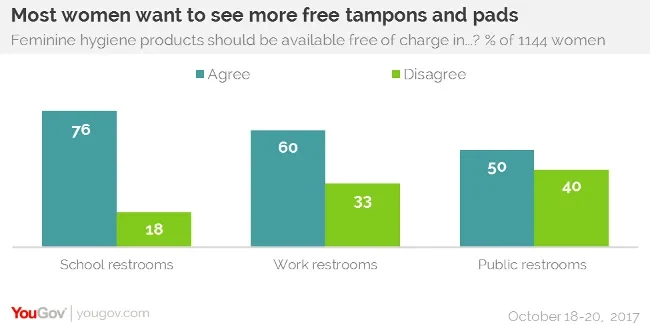 The mission statements of organizations such as Free the Tampons have often been disputed. Namely, controversy has surrounded whether access to affordable tampons and pads is a right, rather than a privilege. Most women (66%) agree that access to these goods is a right, but less than half of men do (46%).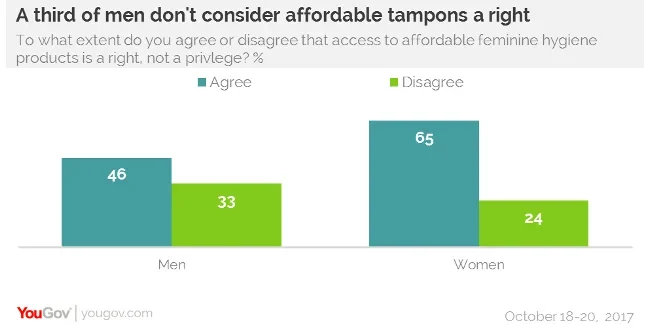 Similarly, men are divided when it comes to whether feminine hygiene products should be available at no cost to employees in workplace bathrooms – 40% say yes, while 41% say no. In comparison, 60% of women agree that they should have access to free tampons and pads at work, while a third (33%) disagree. However, 57% of men, as well as 57% of women, disagree that feminine hygiene products should be available free of charge wherever they are currently sold, like grocery and convenience stores.
There are also those working to eliminate the sales tax on these goods, which the vast majority of states impose. Often called "the tampon tax," the large majority of women (67%) don't think it should exist, and 43% of men feel similarly.
Learn more about YouGov Omnibus
Photo: Getty