And 63% of Americans think the media is overly critical of how celebrities dress
After over two decades on the air, iconic celebrity style show Fashion Police is finally coming to a close. The show analzyed red carpet looks the day after major events, inspiring a generation of commentators who thrive on picking apart celebrity style, sometimes to the point of cruelty. The majority of respondents in a new YouGov Omnibus survey say that the media is overly critical of how celebrities dress (63%).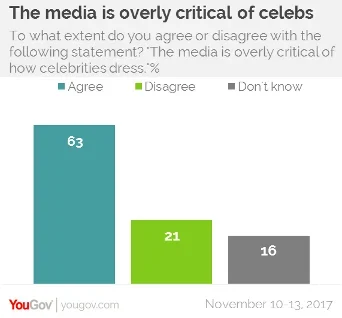 While many believe the media is obsessing over A-list fashion trends, the general public seems less inclined. Only 5% of Americans report that they often seek out photos or videos of celebrities to pick up new style ideas and tips, while over half (53%) never turn to Hollywood stars for wardrobe inspiration.
However, this figure increases after red carpet events. In fact, 23% of Americans, including nearly a third of millennials (30%), watch the red carpet before major televised events, or look up pictures and video afterward.
Given the number of millennials who are interested in red carpet looks, it follows that 1 in 4 (25%) agree that they try to emulate celebrity style. In comparison, only 11% those aged 35 to 54 agree, and just 2% of people over the age of 55.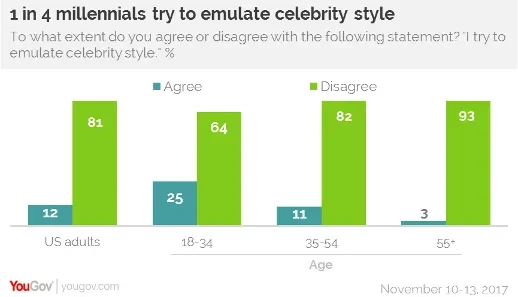 The large majority of Americans do, however, believe that celebrities are only fashionable because they have the money to be (74%). Millennials are the least likely, though, to feel this way (68%), but 82% of those aged 55+ agree.
Learn more about YouGov Omnibus
Photo: Getty