Throughout human history, people have often greeted one another with handshakes. Some historians suggest that this practice dates back to the ninth century B.C., while others believe that it was largely popularized by the 17th century Quakers.
But whatever the origins of the handshake, coronavirus may be putting an end to the practice — permanently.
A survey of more than 23,000 US adults finds that fewer than half of Americans say they will go back to shaking hands after the COVID-19 pandemic.



About three in 10 (31%) Americans say they will not shake hands again after the pandemic subsides, while 26 percent aren't sure whether they will or not.

Additional analysis of this data finds that Republicans (56%) are more likely than Independents (44%) and Democrats (34%) to say they will shake hands again after COVID-19. Similarly, men (51%) are 16 percentage points more likely than women (35%) to say they'll shake hands again when this is all over.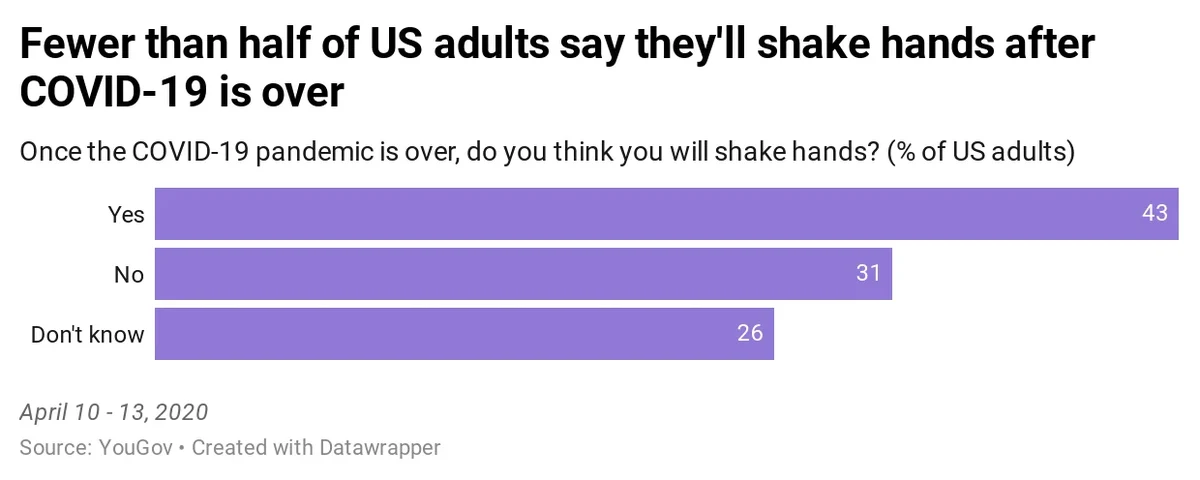 A March 2020 poll from YouGov finds that many Americans are open to various handshake alternatives.
Most are willing to substitute a wave (62%) or a nod (55%). About a quarter (25%) would be willing to bump elbows, while 13 percent would be willing to bow instead of shaking hands and 7 percent are open to tapping feet, also called "footshaking."
Take a short chat to tell us about your experience with COVID-19.
Dr. Anthony Fauci, a member of the White House coronavirus task force, has outright said that Americans should never shake hands again, in order to prevent the spread of coronavirus and other diseases.
"As a society, just forget about shaking hands," Fauci said in an interview with the Sinclair Broadcast Group. "We don't need to shake hands. We've got to break that custom. Because as a matter of fact, that is one of the major ways you can transmit a respiratory-borne illness."
Find more surveys and articles about COVID-19 and sign up for the YouGov Daily newsletter.
Image: Gender Spectrum Collection