As COVID-19 continues to spread across the United States, the Centers for Disease Control and Prevention is asking Americans to avoid traveling for the holidays. Data from YouGov finds that some Americans are intending to follow this advice, while others are deciding to travel anyway.
About one in eight (13%) Americans will travel for Christmas this year. Almost twice as many (24%) say they would normally travel but won't this year because of the pandemic. Another 5% say they would usually travel but are skipping the trip this year for reasons unrelated to the pandemic.
This suggests that in a normal year, 42% of Americans would be traveling for the holiday. The fact that just 13% still intend to do so indicates a 69% reduction in participation.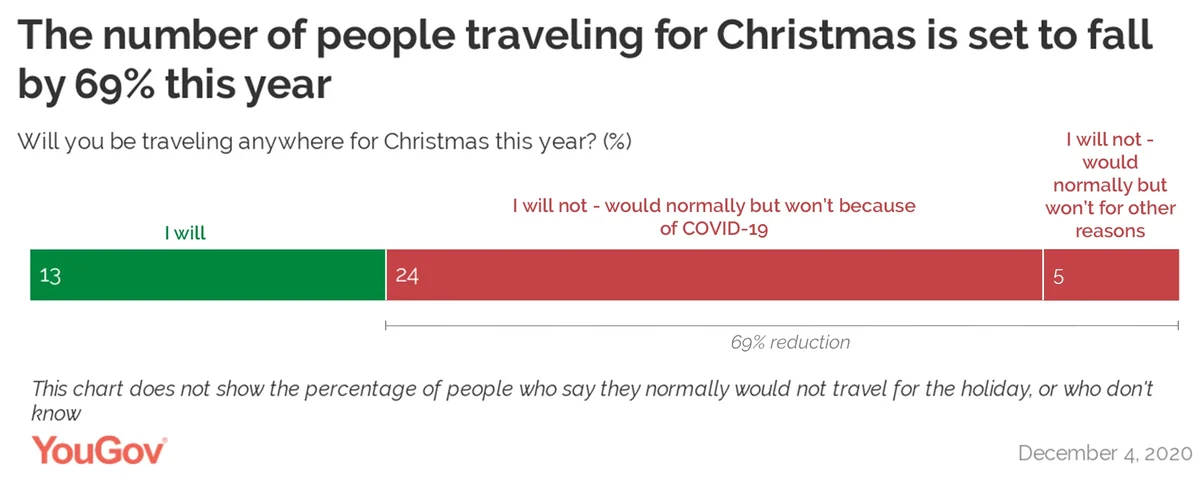 About half (52%) of US adults say they won't be traveling for Christmas and wouldn't normally do so and another 5% are unsure about their Christmas plans.
In addition to skipping travel, some Americans are also skipping holiday gatherings altogether. Nearly half (46%) of US adults say they will skip or cancel their usual holiday social events this year specifically because of the COVID-19 pandemic. About one-third (32%) plan to have their usual festivities despite the pandemic, and 16% say they don't typically have any holiday events with others.
Some people have mixed feelings about skipping the get-togethers this year. Most of those who intend to skip the celebrations this year are feeling sad (55%) about doing so, but 18% are feeling relieved. Slightly fewer report feeling lonely (16%), anxious (12%), and/or angry (10%).
Additional data from a YouGov survey of more than 6,000 US adults finds that most (74%) Americans are concerned about COVID-19 cases increasing in their communities because of Christmas travel. Democrats (67%) are far more likely than Independents (39%) and Republicans (24%) to say they are "very concerned" about this possibility.
See full results here.
Methodology: 1,200 US adults were surveyed through YouGov Direct on December 4, 2020. Data is weighted on age, gender, education level, political affiliation, and ethnicity to be nationally representative of adults in the United States. The margin of error is approximately 4.4% for the overall sample.
Image: Getty