Two of Amazon Prime's key perception metrics climbed to a virtual tie with streaming video category leader Netflix.
Consumer perception metrics for all the streaming video players have shown a lot of movement in 2016, demonstrating an aggressive battle in this relatively young sector.
While the general consumer impression of Netflix has remained steady since the end of August, Amazon Prime has been improving during 2016 and is now in a tie for category leader.
Amazon Prime's satisfaction levels have been steadily rising since early July, and are now very close to Netflix levels, which have also been increasing for the past two months.
Hulu's general consumer impression levels have been trending up during the year, and the brand has now caught YouTube on this measure.
YouTube's consumer satisfaction levels have been on a slight, slow decline throughout the year, while Hulu has just matched its previous highest point for the year, last reached in July. As with impression, Hulu's satisfaction scores are now just above YouTube's.
YouGov BrandIndex measured Amazon Prime, Hulu, Netflix and YouTube with two metrics: 1) Impression, which asks respondents: "Do you have a positive or negative impression of the brand?" and 2) Satisfaction: "Are you a satisfied or dissatisfied customer?" Both questions were filtered for recent customers of each brand.
Both scores can range from 100 to -100 with a zero score equaling a neutral position.
Impression: YouTube, Hulu, Netflix, Amazon Instant Video/Prime Instant Video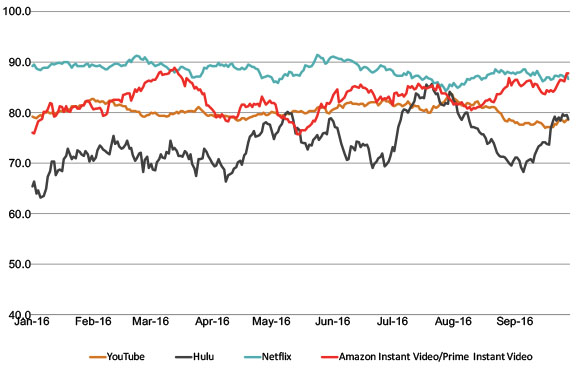 Satisfaction: YouTube, Hulu, Netflix, Amazon Instant Video/Prime Instant Video