The majority of Americans believe that a cure for cancer would be the most beneficial innovation for humanity
Just a few days before we brought in the new year, TIME released a list of technology predictions for 2017, providing readers with a brief glimpse into the trends and advancements they would likely see over the next twelve months. Judging by TIME's list, this year promises to be one filled with intriguing new gizmos and gadgets, but, as the rate of advancement continues to grow, one can't help but question what the distant future holds. How much will we have discovered by 2027, for instance?
A recent YouGov survey put this question to the test, asking respondents to select which items, from a list of fourteen inventions and technologies, they thought society would manage to produce in the next ten years. The majority of US adults see driverless cars cropping up over the next decade (69%), which bodes well for Ford's announcement that, by 2021, the company will be mass producing a self-driving automobile.
Similarly, over half of those surveyed (52%) expect that, before we reach 2027, society will have the ability to 3D print absolutely any object.
While it is hard to deny the cool-factor of hands-free driving and 3D printed sneakers, the vast majority of individuals think these advancements will not be particularly beneficial to society. When asked to select the top two most beneficial inventions from the fourteen-item list, respondents were overwhelmingly more likely to choose things related to medical advancement than machinery.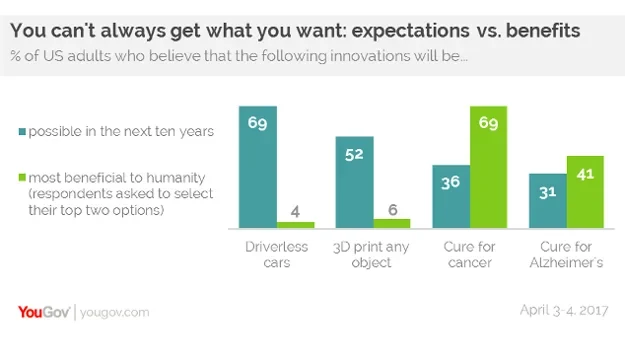 Finding the cure for cancer took first place, with 69% of individuals noting that this would be the most beneficial discovery for humanity – unearthing a cure for Alzheimer's also received strong support (41%). In comparison, only 6% said 3D printing would be most beneficial, and only 4% said driverless cars.
It appears that the inventions we expect to see come to fruition by 2027 aren't necessarily the ones we most want to see.