Data shows that LGBT consumers in the US, UK, and Germany are more likely than the general public to act after seeing an ad
While YouGov's 2017 LGBT brand rankings reveal the best perceived companies among US consumers who identify as lesbian, gay, bi-sexual, or transgender, the data is also rather clear on another point: LGBT consumers in the US, UK, and Germany want to see more LGBT people in advertising.
In America, for example, 66% of LGBT individuals report that they don't see their lifestyle represented enough in advertising, compared to 51% of the general public. The same pattern occurs in the UK and Germany, where the differences are 57% to 44% and 40% to 33%, respectively. Additional numbers show that members of the LGBT community in all three countries are more likely than their fellow citizens to wish more ads portrayed families like theirs.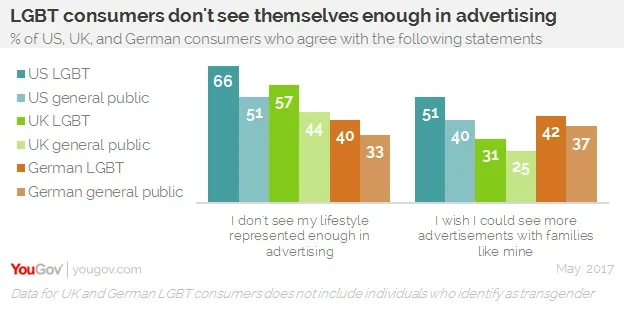 The data also suggests that LGBT consumers are more likely than the average shopper to act after seeing an ad.
For instance, when asked if they search on their phone for the products and services they see advertised on posters and billboards, 43% of LGBT consumers in the US say they do, compared to 33% of Americans in general. Yet again, a similar difference in behavior occurs when measuring LGBT consumers in the UK and Germany against each nation's adult population. LGBT individuals appear more likely to research the products they see advertised on TV, as well.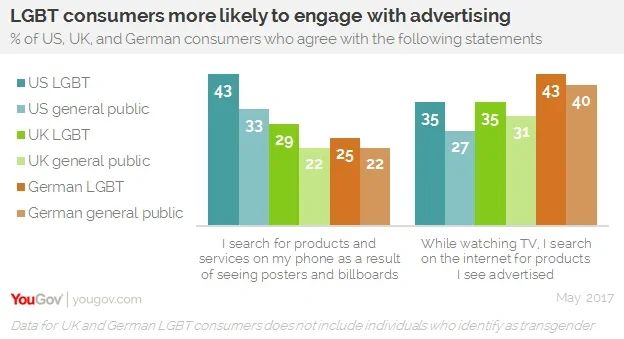 For brands of all stripes, the desire of LGBT consumers to see themselves more in advertising, coupled with a history of acting on the ads they see, should make for an exciting opportunity.
Indeed, when the American retailer Kohl's included a same-sex couple in a 2015 Thanksgiving commercial, and when the UK travel agency Thomas Cook did the same for a 2016 Christmas spot, YouGov data detected a slight uptick in both ad awareness and purchase consideration among LGBT individuals in each brand's home country.
*Data for UK and German LGBT consumers does not include individuals who identify as transgender.