YouGov data reveals that Dell is positioned between rivals HP and Lenovo on two key consumer perception metrics
After reporting a net revenue of $17.8 billion in Q1 FY 2018, along with an operating loss of $1.5 billion, computer giant Dell Technologies is scheduled to release its Q2 financial results next week.
Leading up to the announcement, YouGov data shows that the US public's overall impression of Dell is slightly lower than competitor HP, while Dell maintains a clear lead above the Hong Kong-based Lenovo. On this metric, all computer brands have remained relatively stable since the beginning of the year.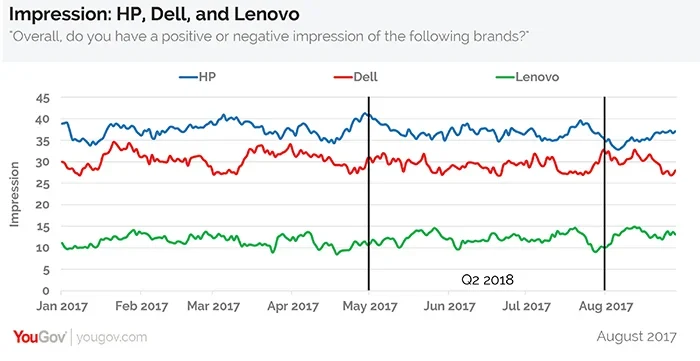 When it comes to purchase consideration, however, the race is a bit tigther between Dell and HP. At present, 21% of US consumers report that they'd consider purchasing a Dell product when next in the market for computer technology, compared to 24% who say the same about HP. In mid-April, prior to Dell's Q2 time period, the computer brand briefly surpassed HP in purchase consideration — but only by a sliver. Lenovo, meanwhile, has struggled to break the 10% ceiling on purchase consideration since January 2017.