YouGov data also suggests that more young people are currently talking with friends and family about Spotify
Despite having approximately 4.9 million paid subscribers and 76 million active listeners, Pandora continues to struggle with turning a profit. Last quarter, for example, the music streaming service recorded a loss of $275.1 million despite taking in $376.8 million in revenue. Now, as the company prepares to release its financial results for the third quarter of 2017, data from YouGov BrandIndex shows that rival Spotify has surpassed Pandora in terms of how frequently millennials mention it in conversation.
At the beginning of October 2013, when asked if they've discussed either brand with friends or family members in the past two weeks, 22% of US consumers aged 18-34 said they had for Pandora, while a mere 7% said the same for Spotify, which debuted in America in July 2011. Since then, Pandora's Word of Mouth score has gradually declined to 15%. Spotify's, however, has climbed to 19%, which indicates that nearly one in five millennials have talked about the Stockholm-based company at some point in the past two weeks — whether online or in person.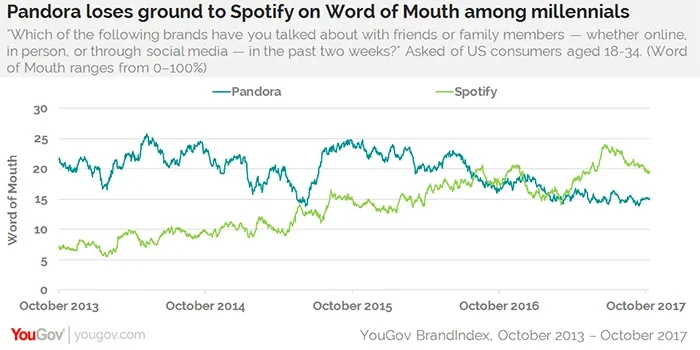 YouGov's Word of Mouth metric doesn't ask whether people are discussing the brand in a positive or negative light. In May 2015, for instance, Spotify came close to catching Pandora's Word of Mouth score before Pandora likely got a boost from a number of court cases over royalty rates, along with news that the company had earned $1 billion in revenue during a 12-month period for the first time in its history.
Additional figures from YouGov Profiles suggest that 39% of current Pandora customers aged 18-34 sometimes feel overwhelmed by the amount of music out there, compared to 34% of current Spotify customers in the same age bracket.
Photo: Getty
Find out more about YouGov Profiles