YouGov BrandIndex's examination of product placement segments on late-night TV talk shows and Saturday Night Live reveals hit and miss results.

In the analysis of eight segments, there were two notable recent triumphs — Reese's Peanut Butter Cup on The Tonight Show Starring Jimmy Fallon and KFC on Jimmy Kimmel Live! — but the others registered mostly negligible or no movement in perception.

Most product placements can be divided into two groups: minor movers or non-movers, even when actual products and/or conspicuous logos are featured. Among the likely reasons determining if these promotions succeeded with consumers or not: execution, presentation, and pre-disposition to the brand itself.
Major Movers:
On October, 2017, Wonder Woman star Gal Gadot was offered her first Reese's Peanut Butter Cup by host Jimmy Fallon on The Tonight Show. Women's perception of Reese's Peanut Butter Cup shot up to its highest level since January 2016 in the week following the show's airing. The YouTube video itself garnered over 4.5 million views.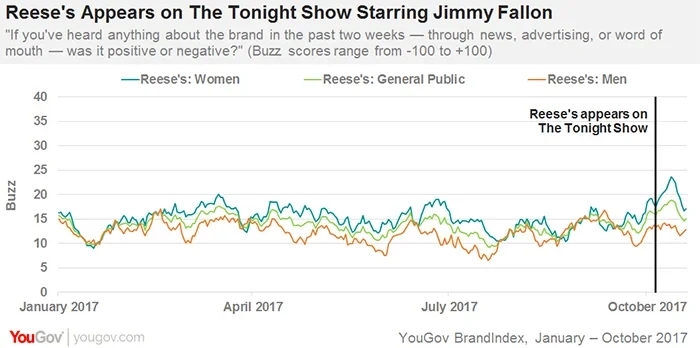 Back in early July, Jimmy Kimmel Live! aired a taped bit for National Fried Chicken Day where sidekick Guillermo worked the drive-through at a local KFC, with assistance from Colonel Sanders. Consumer perception started up after that airing and rose through the week after Labor Day.
Minor Movers:
On The Tonight Show in late March 2014, Fallon announced that he was shopping for a new truck and decided on a Ford F-150, part of a pact he made with the car dealer. He spent the next week holding a contest at the U.S.S. Intrepid on which dealer would sell him the vehicle. During that week, Ford's Buzz score rose from 20 to 23.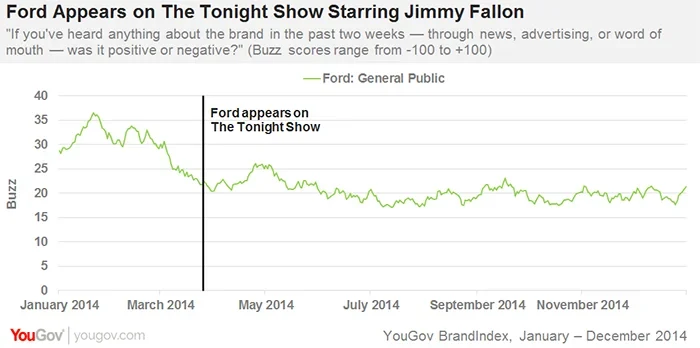 On the January 18, 2015, episode of Saturday Night Live, Kate McKinnon played Justin Bieber in a fake Calvin Klein TV ad spoofing his bad boy behavior. For the next two weeks, Calvin Klein's Buzz score barely moved up two points, from 2 to 4.
The Late Late Show with James Corden's deal with Heineken as the exclusive sponsor of his on-set bar, announced in May, may have helped boost the beer maker's Buzz score up a decent four points for a few weeks. However, the score slid down by the same amount over the next two months.
Non-movers:
On the premiere episode of The Late Show with Stephen Colbert in September 2015, the host gave a self-mocking Sabra Hummus plug, which failed to move the needle.
On Saturday Night Live, a prominent Jamba Juice stand in a four-minute "Mirage" sketch on October 7, 2017, didn't have any effect, nor did a "Honda Robotics" tech conference sketch that aired on October 16, 2016.
Photo: Getty