66% of Hispanic Americans say they use group chats
Sharing a moment with friends and loved ones can be immensely difficult to coordinate given everyone's variable schedule. The group chat function on texting or messaging apps like Facebook Messenger, WhatsApp, and GroupMe makes keeping in touch with everyone a little easier. New research from YouGov Omnibus discloses that 63% of Americans take advantage of the group text or chat function to talk to their family, friends, and coworkers.

Texting has changed the speed and frequency at which people converse with one another. Its main improvement over the last few years is how one can create a group chat and add multiple people to the same conversation. YouGov's new poll reveals that not only do a majority of Americans talk in group chats, 45% of them use it at least once a week. A look at just how often reveals that most use it multiple times a day (18%) while others use it several times a week (13%), once a day (7%), or once a week (7%).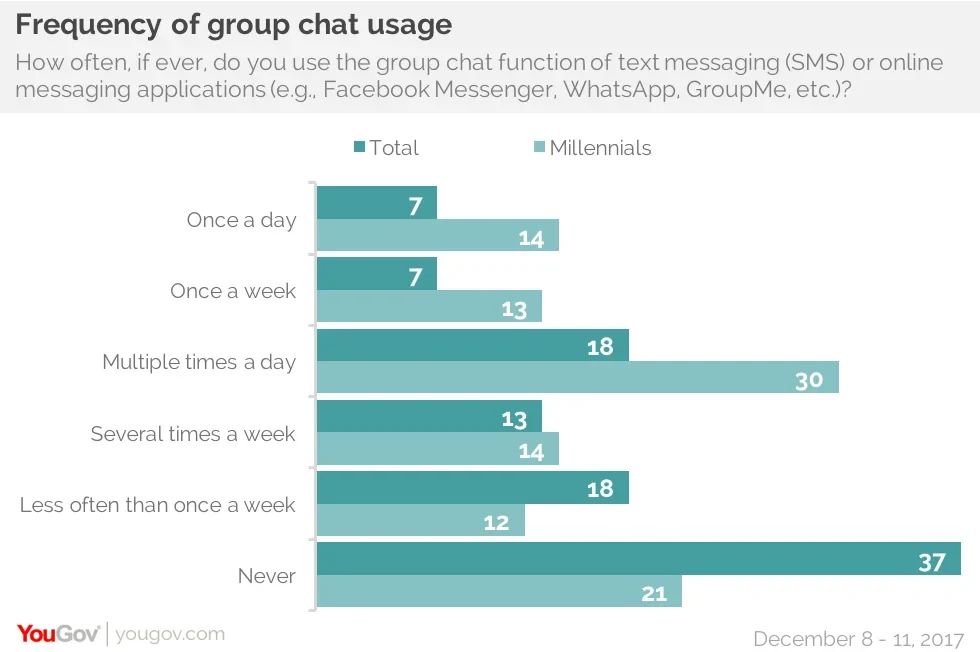 Upon examining those who talk in group chats at least once a week, certain groups
seem to have stronger engagement with the function than others. More men (49%) than women (41%) say that they use group chats at least once a week. A majority of millennials (67%), many who grew up while texting was in its infancy, are the likeliest of three age groups to say they use it at least once a week. Hispanic Americans (66%) are also strong engagers with the group chat function compared to blacks (45%), and whites (40%).

For Americans who need to keep in touch with friends and family while working, the group chat function can be the ideal way to send one message and have it delivered to everyone involved in a conversation. At least 8 in 10 Americans (85%) who text or use messaging apps utilize the group chat function for the purpose of keeping family members and friends in the loop. Millennials (89%) and those between the ages of 35 and 54 (85%) again are the likeliest to rely on this form of group-based communications.

Group chats have also found traction in the workplace with 68% of Americans saying they use it to communicate with coworkers or help conduct their work. While it's far off from replacing email as the standard for workplace communications, it's popularity with millennials – 80% who say they rely on it for work – makes it a powerful office contender.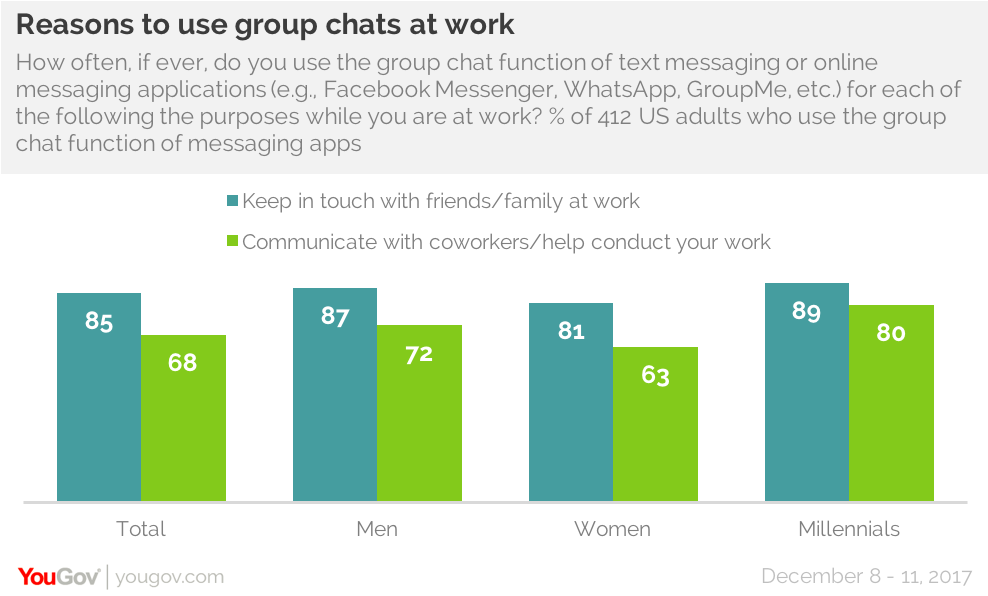 Read more results from this poll here

Learn more about YouGov Omnibus research

Image: Getty