The shoe brand has seen a rise in Ad Awareness in the last month
Shoemaker brand Skechers have been around for more than 25 years, and even as styles have changed, the brand has continued to rely on celebrity-centric advertising. Current ads feature ex-Fifth Harmony singer Camila Cabello and former NFL player Tony Romo – and they are catching viewer's eyes, according to data from YouGov BrandIndex.
After a surprise Super Bowl ad featuring former NFL player Howie Long, the brand saw a dip in Ad Awareness, which asks respondents if they've seen an ad for the brand in the past two weeks. From a low of 17 in early March, Skechers' Ad Awareness rose to a high of 27 in mid-April.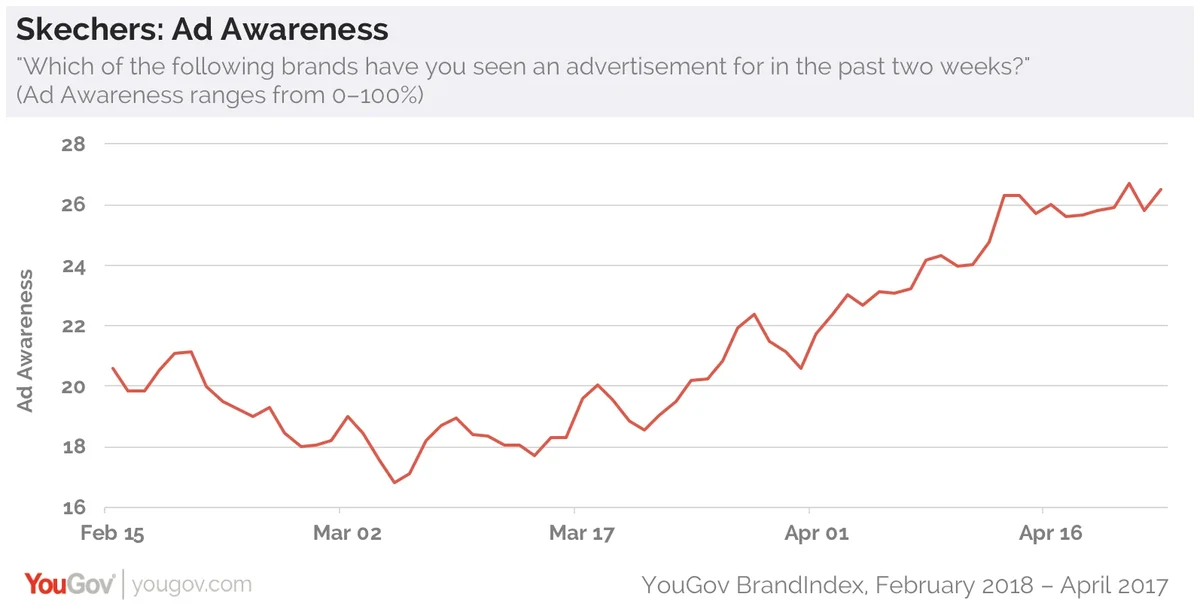 Cabello's latest commercial for the shoemaker advertises the brand's D'Lites sneakers, the brand's lightweight, everyday sneakers for women. Other recent ads have focused on the company's workplace safety apparel, children's line, and sandals options.
Data from YouGov Profiles shows that fans of pop music are a natural audience for Skechers. Nearly one-third of pop music fans (32%) said that they would consider buying Skechers the next time they're in the market for apparel, compared to 26% of the general public. They're also more likely to say that Skechers represent good quality – 43% of pop music fans feel this way, compared to 36% of the country.
Learn more about YouGov Plan and Track.