Nearly one-third (32%) of people say they never check their phone during a date.
Smartphone addiction just might be a real issue for many people. According to new data from YouGov Omnibus, more than a third of Americans say they couldn't go more than a few hours without their smartphones.
People were asked how long they thought they could go without their phone, and to consider only personal use, not work-related time. Thirty-one percent of respondents said they could go "a few hours," while 8% said they could only make it "an hour or less." Another 17% said they could make it "a full day" without their phone for personal use.
Millennials (those born between 1982-1999) and Generation X (born between 1965-1981) had largely similar responses for how long they could go without their phones, while baby boomers (born 1946-1964) seemed the least attached: 12% said they could go "more than a year" without their phone, though a larger number (26%) also said they thought they could only go "a few hours."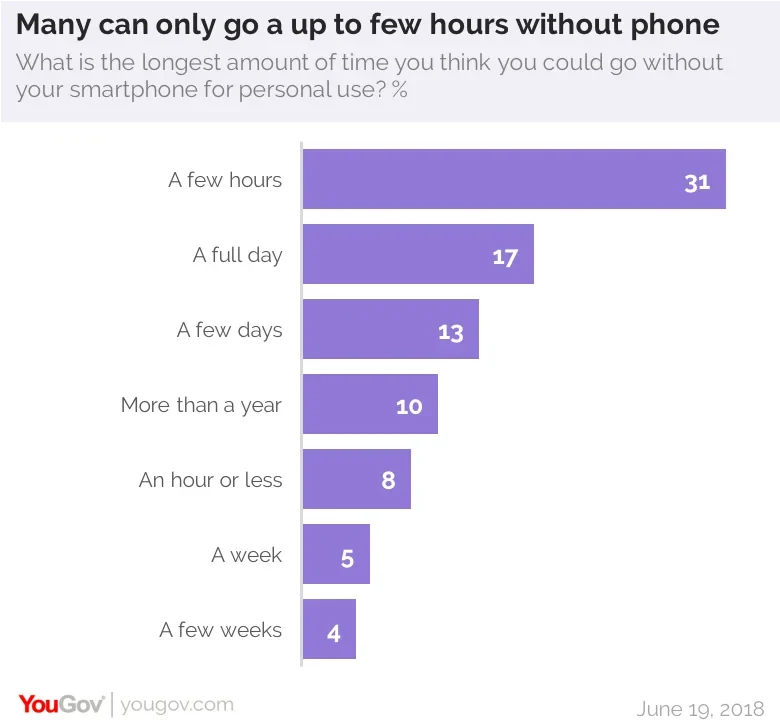 Many people (46%) agreed with the statement "Not having my phone with me makes me feel anxious." Millennials (22%) were most likely to "strongly" agree with this sentiment, compared to 17% of Gen X and 12% of baby boomers.
Millennials were also more likely than their older counterparts to agree with the statements "I waste too much time on my smartphone," (51% of millennials agreed) and "I think I could be more productive if I didn't have my smartphone with me," (42% of millennials agreed).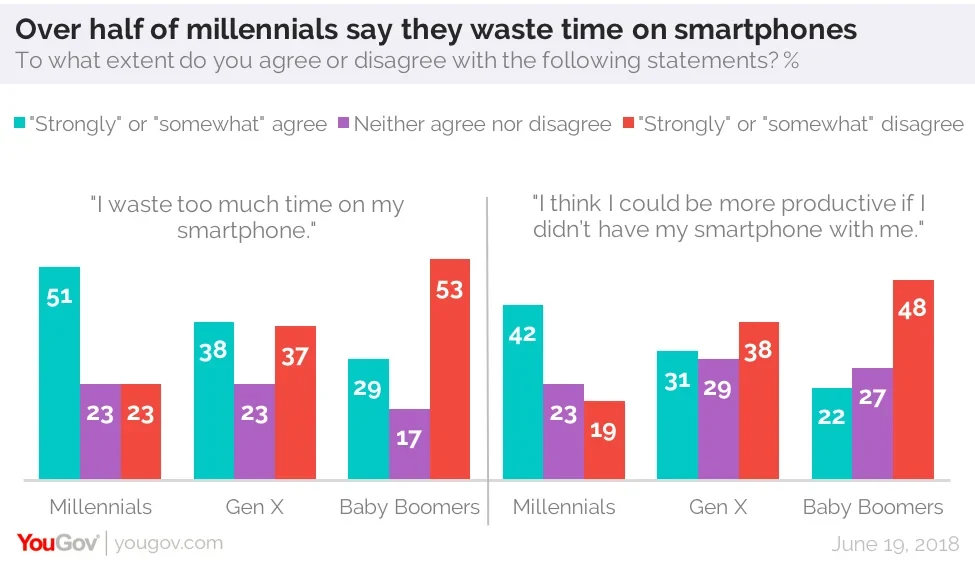 But many millennials (43%) also agreed that their smartphones have actually strengthened their relationships with other people. Only 35% of Gen X'ers and 27% of baby boomers felt the same.
Most people like to have their phones close at hand while they sleep. A large percentage of people across generations (42%) said they have their phones right next to their bed on a nightstand or table when they go to sleep. And nearly one in five people (17%) reported keeping it on the bed next to them at night, though millennials (24%) were more likely to do this. When waking up in the morning, 41% of people said they "always" or "often" browse the internet or use apps on their phone within 10 minutes of waking up.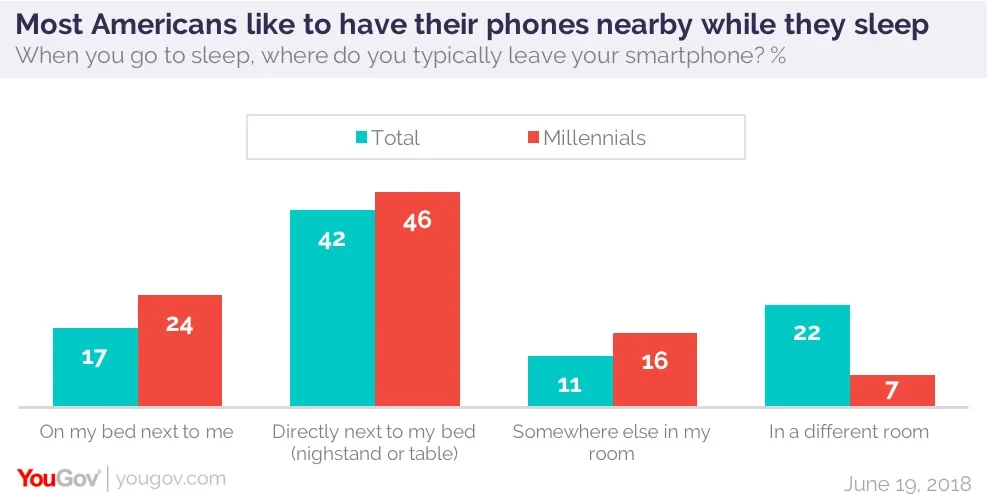 But most people are willing to put the phone down for work meetings, hanging out with friends and while on a date. More than half (53%) said they "never" check their phone during a work meeting, while 39% said they check their phone "1-2 times" when they're spending time with friends.
And when it comes to dating, it seems most people are following common dating etiquette: 24% said they check their phone 1-2 times, while nearly one-third (32%) said they "never" check their phone while they're on a date.
Learn more about YouGov Omnibus.
Image: Getty