Early adopting Affluent Americans are switching to smart devices and ditching outdated tech.
The latest data from the YouGov Affluent Perspective shows that the United States' affluent are more likely than the General Population to own most types of technology, especially newer, home technology like smart thermostats and video surveillance. These types of technology tend to enter the market at a high price point, and the affluent are in a better position to be among the first to purchase these items because of their means.
As they shift toward new technology, their reliance on older technology has begun to wane. Use of desktop computers has declined by 21 percent among the affluent since 2016, and laptop use has seen a decline of 11 percent during that same period. Even tablets—a relatively newer technology—have declined in use by 9 percent. More and more consumers seem to prefer smartphones as their device of choice.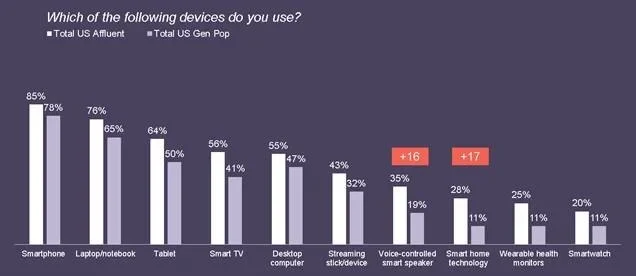 At the same time, smart technology has increased in use over the last few years. Today, 35 percent of the US affluent report owning a voice-controlled smart speaker/device, which marks a 35 percent increase over 2018.
Smart home technology such as thermostats and video surveillance have also seen an increase, rising 22 percent over the past year. But that's nothing compared with wrist wear among the US affluent.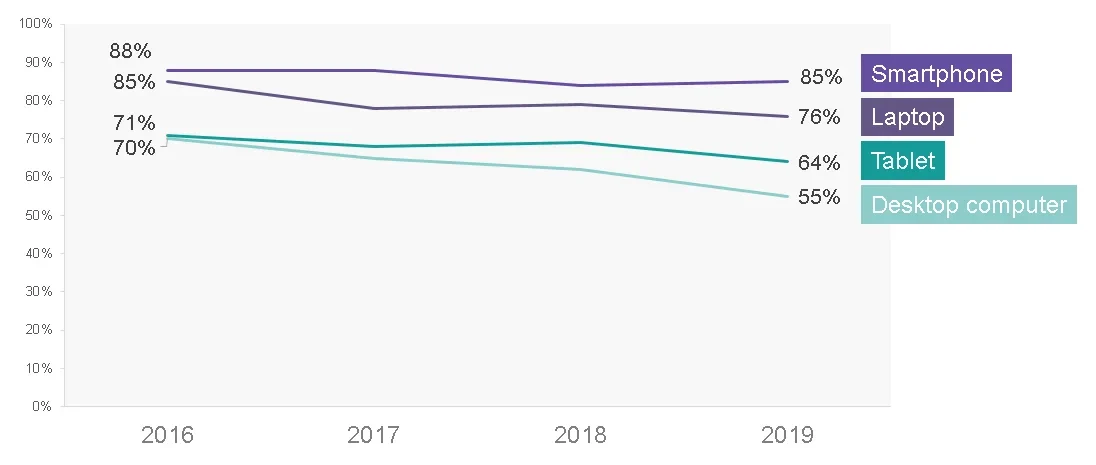 Smartwatches have really taken off with this group. In 2016, only 12 percent of the affluent owned this device, but now 20 percent do, marking a 66 percent increase over that four-year span.
Interest in smart home technology stands to grow even stronger as the affluent look to make these devices mainstays in their homes. A majority (54%) of the US affluent report that they will seek smart home features in their next home.
For luxury brands looking to tap into the potential of smart technology, that's a lot of opportunity.
But it is important to not lose sight of one essential aspect: privacy. More than half (52%) of smart device owners say they are concerned about the privacy of their personal information.