Looking to date a Republican? Your odds will be better if you sign up for eHarmony or Zoosk – their users tend to lean far more to the right than their competitors nationally, according to YouGov Profiles
If you prefer your potential matches to be conservative and older, Zoosk customers generally are men 45 to 64, while eHarmony skews towards males aged 30 to 44.
Match.com customers swing slightly to the right and are also generally men 45 to 64 as well.
If you are seeking single Democrats, Tinder is the way to go: their users are not only far more liberal than their online dating counterparts, but they are even stronger in their leanings than eHarmony or Zoosk.
Going out to Eat? If you are deciding where to go out to eat on your dates, each of these site's customers has particular favorite restaurants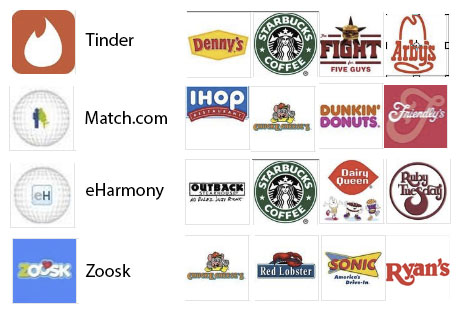 Tinder: Denny's, Starbucks, Five Guys and Arby's.
Match.com: IHOP, Chuck E. Cheese, Dunkin' Donuts, Friendly's Ice Cream.
eHarmony: Outback Steakhouse, Starbucks, Dairy Queen, and Ruby Tuesday's.
Zoosk: Chuck E. Cheese, Red Lobster, Sonic, and Ryan's.
Profiles collects and connects data on demographics, attitudes and opinions, brand usage and perception, media consumption, lifestyle, and social media and digital engagement. Profiles is comprised of more than 200,000 of the most active YouGov panelists. The data is updated continuously and weighted appropriately to represent a nationally representative sample.