Shoppers are more willing to wait in a long line to buy a gift for someone else rather than for themselves
Thanksgiving is exactly one week away but many shoppers are also preparing for the day after, the biggest retail holiday in the US. More than half of Americans think that Black Friday is the perfect time to finish their holiday shopping and many will be waiting in line for the best deals. New YouGov Omnibus research reveals that while more intend to shop online (18%) than in stores (12%), consumers aren't scared of waiting in a long line if it means their loved ones will be unwrapping gifts next month.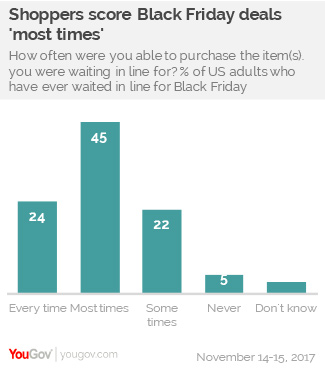 A major concern for in-store shopping during this time of year is that checkout lines are too long and especially on Black Friday, waiting in line for a deal doesn't guarantee that you'll get it. In fact, only a quarter of Americans were able to get a Black Friday deal they wanted every time they waited on a line (24%), and less than half say that they'll be able to score a Black Friday deal most times. And 5% of line-waiters were never able to nab their desired item. 





Motivation may play an important role in how long some shoppers are willing to wait. Waiting in line isn't for everybody; only 62% of shoppers say they're willing to wait in line for an item for themselves, while 67% say they'll wait in line for a gift for someone else. Millennials are much more likely to wait more than an hour if it's a gift for someone else rather than themselves (28% versus 17%). Americans over the age of 55 are the least likely to wait in line for more than an hour at all. And regardless of their motivation, 54% of shoppers who have waited in line for more than an hour and say they it's worth it would wait again.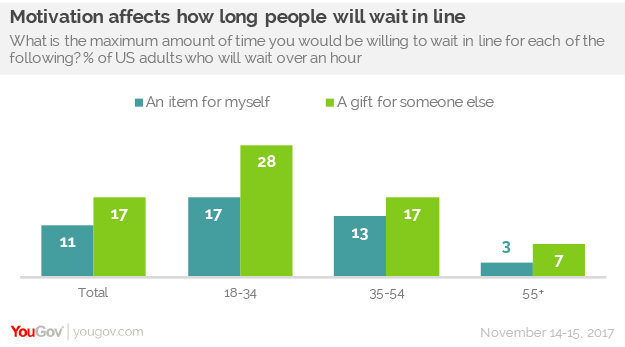 Black Friday is known as the unofficial start of the holiday shopping season and Americans, particularly millennials, intend to keep it alive. Nearly two thirds of the younger generation say they'll be shopping at some point over Thanksgiving weekend (65%) and are the likeliest to say they don't want to step foot in a physical store (25%). Most Americans say they'll employ a hybrid online/in-store approach to get all of their shopping done (28%).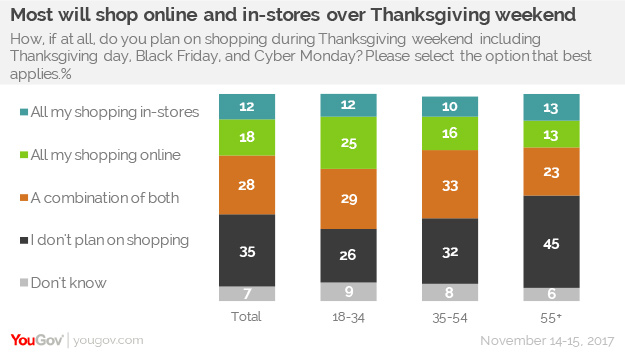 The retail holiday may have started in the 1950s but the tradition is less popular amongst older Americans. At least four in ten of those over 55  say they don't plan on shopping at all (45%) and even among this age group, few are likely to keep their shopping habits steeped in the past. Only 12% of Americans say they'll be shopping only in-stores and this number remains stagnant across all age groups.

Read more results from this poll here

Learn more about YouGov Omnibus research

Image: Getty