37% of Americans say the country is headed in the right direction, the highest in five years
Follow @YouGovUS on twitter and stay up to date with the latest news and results
The President ends his first year in office with an approval rating higher than he has seen in months. While a majority of the public continues to disapprove, 42% in the latest Economist/YouGov Poll approve of the President's performance, a level not seen in these poll since February 2017.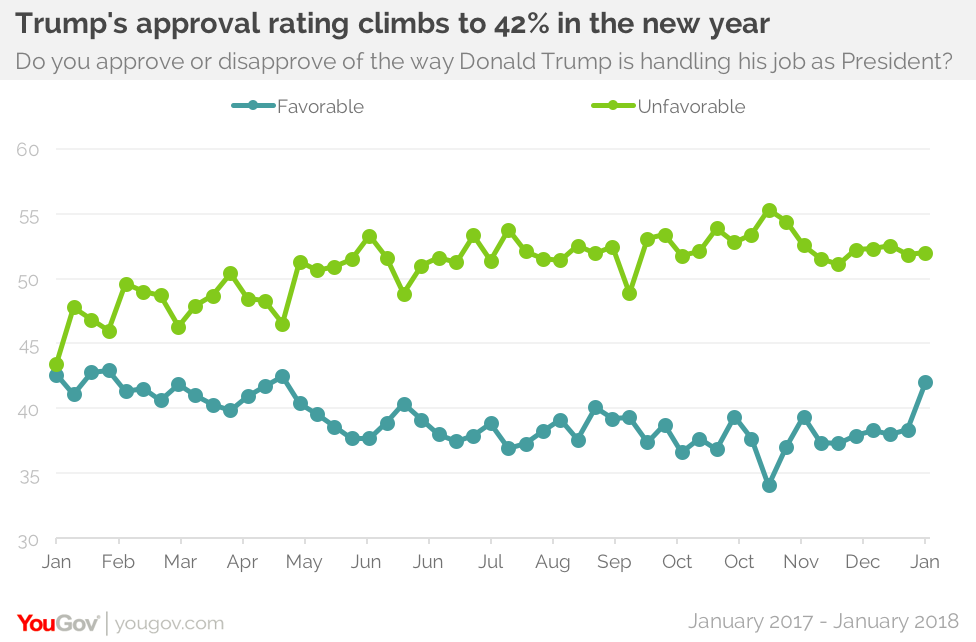 Presidents can sometimes make their own positive ratings, but often those ratings are dependent on how the economy is going in the country. With an unemployment rate at its lowest in more than a decade, the public has responded by improving its evaluations of the state of the economy and the country.

This week, 37 – the highest percentage in five years – say the country is headed in the right direction, and 36% – the highest percentage all year – think the economy is getting better. While there is still concern (51% continue to think the country is on the wrong track), the positive gains can buoy a President who has had difficulty winning majority support.

In fact, President Trump receives his highest approval ratings in this poll on his handling of the economy: 49% approve, while 39% disapprove. That is also his highest approval on this issue all year.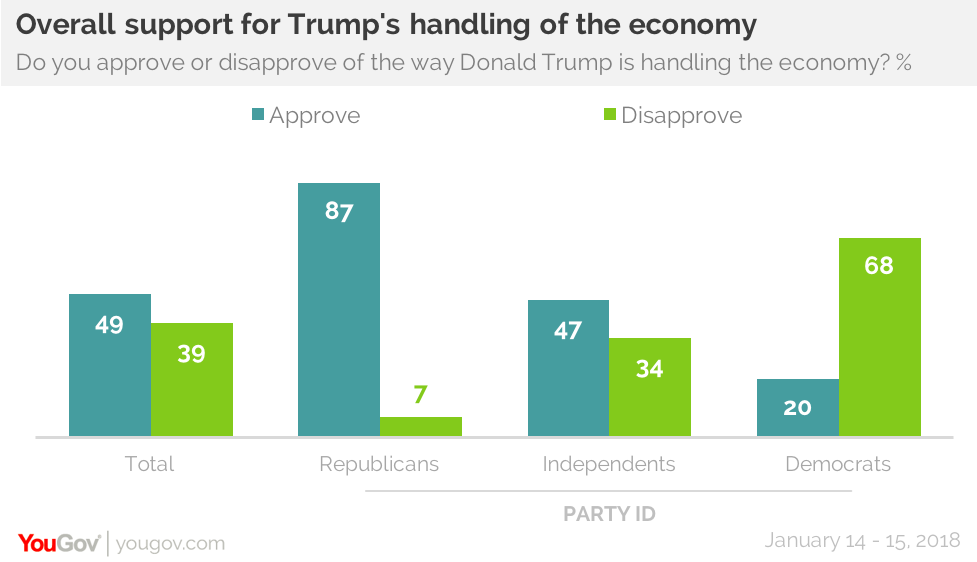 Independents in particular are happy with the President's performance on the economy. As might be expected, so are Republicans. Democrats are not.

Trump also receives positive evaluations of his handling of terrorism: 48% approve, 37% do not.

The new tax law, passed just a few weeks ago, hasn't improved the President's approval rating on taxes much. There is a close public divide on this, 41% approve the President's handling of taxes, 44% do not. As for immigration and health care, Americans are negative.

In fact, half or more of the public believes the Trump Administration has put the right amount of emphasis on things like stimulating the economy, fighting terrorism and reducing unemployment, all strong points for this President. A plurality thinks there has been too much emphasis on repealing Obamacare. There is major public division on how the Administration has emphasized immigration reform, and a belief that there has been too little emphasis on improving education and the environment and reducing the budget deficit.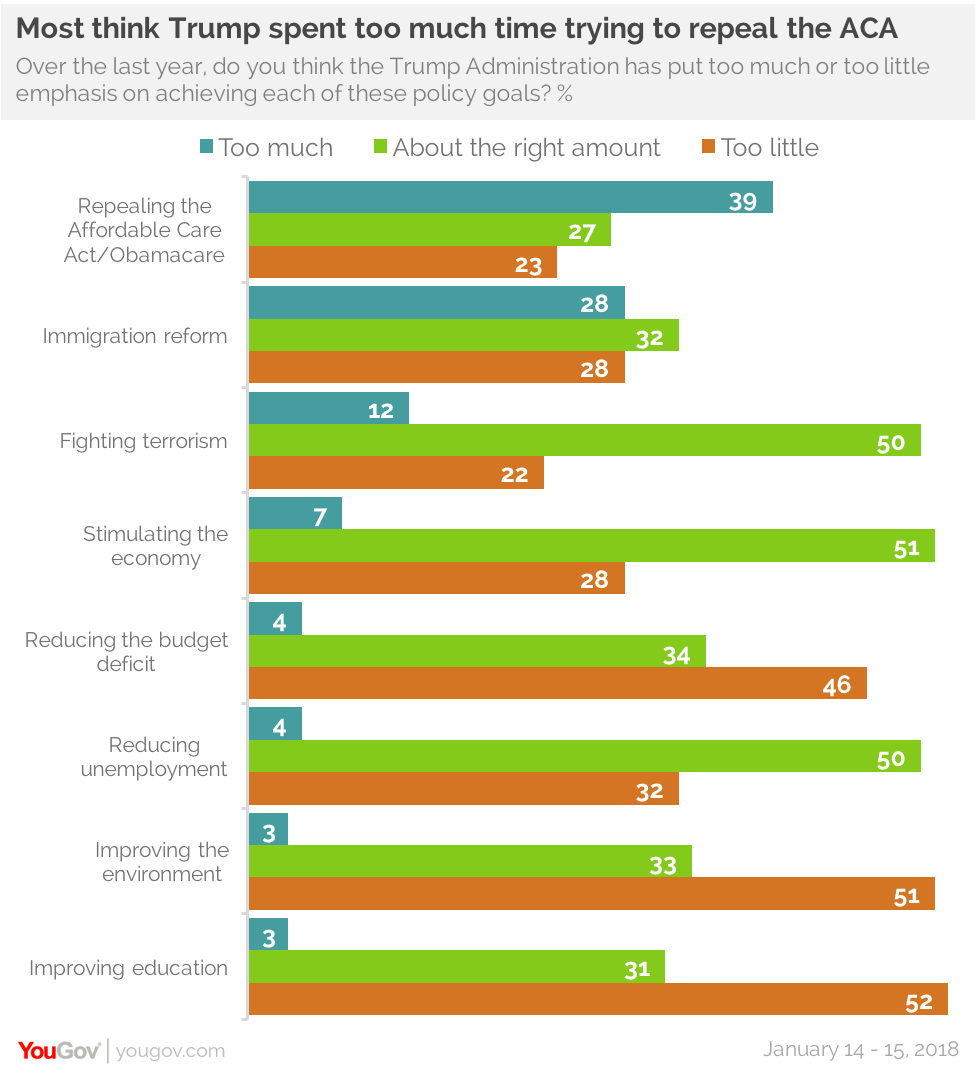 There aren't high expectations for what happens in the second year of the Trump Presidency. Three in ten think the President will accomplish more than Presidents usually do, but more (43%) say he will accomplish less than a typical President does. Half the public believes President Trump is less competent than previous post-World War II presidents; 43% say he works less hard.

Americans put this President towards the bottom when they are asked how they believe he will go down in history. While it is still early in his term, the prospective historical assessment Americans offer for Donald Trump compares unfavorably with how they expected history to judge President Obama after his first year in office.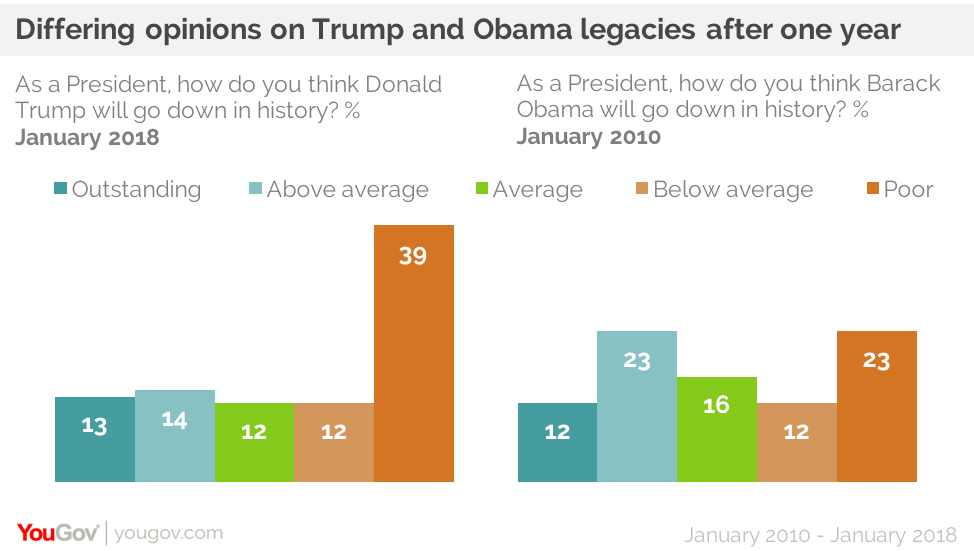 Even now, Americans expect Barack Obama will be viewed more favorably by history than they say Donald Trump will be. And even more now think Mr. Obama will be seen as an outstanding or above average President than said that in early 2010.

In January 2010, Americans were closely divided in how they felt about Mr. Obama, though his approval ratings were marginally better than those now given to Mr. Trump. 45% in the Economist/YouGov Poll conducted before the one-year anniversary of President Obama's first Inauguration approved of the way he was doing the job, while 48% disapproved.

Read more topline and table results

Image: Getty