Even among Republicans the South Carolina Senator is relatively unknown despite making it clear he may run for President
Republican Senator Lindsey Graham has represented South Carolina in Congress for nearly 20 years.  He served as one of the impeachment managers in the Senate trial of Bill Clinton in 1999.  And in the month before and after his November re-election to the Senate, Graham made it clear that he was considering a presidential run in 2016.
But the latest Economist/YouGov Poll makes it clear that Graham may have a long way to go.  Of all the potential GOP candidates asked about in the poll, Graham may be the least well-known.  Nearly half the overall public – and even 45% of Republicans – weren't able to judge whether they had a favorable or unfavorable opinion of him, the highest figures for the 11 GOP possibilities.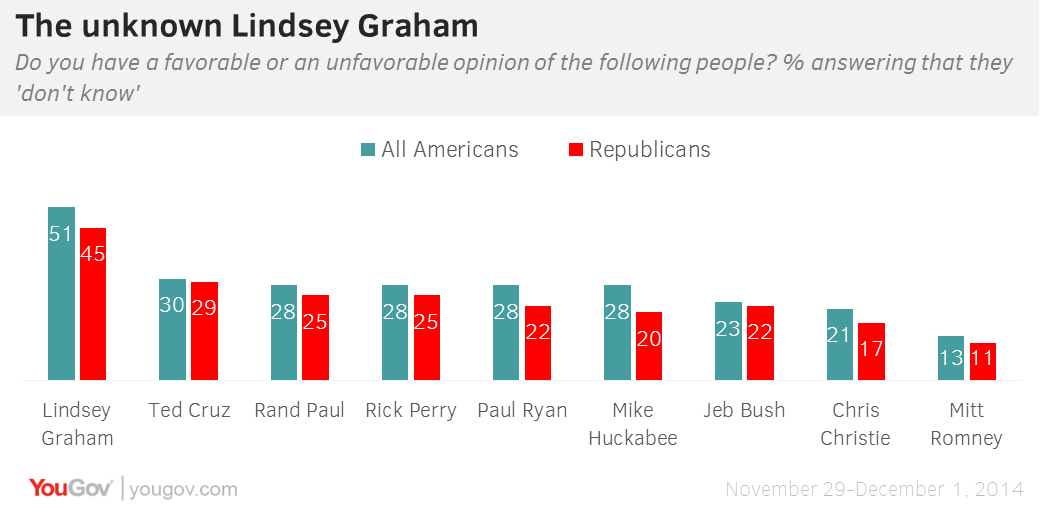 Wisconsin Governor Scott Walker received nearly as high undecided ratings, but he has been on the national scene for much less time than Graham. 
Like most of the other Republican possibilities, Graham receives negative ratings overall (the two exceptions are former Arkansas Governor Mike Huckabee and Tennessee Senator Rand Paul).  But Graham also may have a problem with some Republicans.  21% of Republicans give Graham an unfavorable rating, and only New Jersey Governor Chris Christie receives more Republicans dislikes than Graham.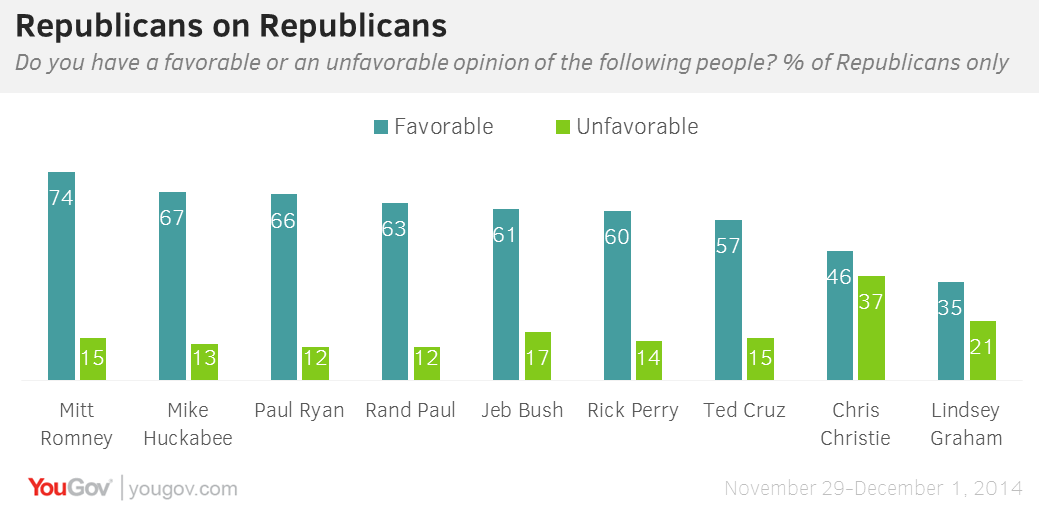 Graham and Walker are the two least well-known Republicans on this list.   But nearly all of those who have any opinion at all of Walker are favorable.  Graham gets three times as many unfavorable ratings as the Wisconsin Governor. 
Two in three Republican in this week's poll say they support the goals of the Tea Party.  And Graham faced four Tea Party challengers in his June primary this year, winning more than 50% of the vote, and managing to avoid a runoff.  The GOP Tea Party supporters in this poll are more likely to have an opinion of Graham than Republicans overall, but the pattern of their opinions is not much different from that of other Republicans:  43% of GOP Tea Party supporters have a favorable impression of Graham, while 29% are unfavorable. 
The Tea Party challenges came about because Graham has been criticized for not being conservative enough.  And in fact, one in three Tea Party Republicans describe him as either a liberal or a moderate.  But more, 43%, say he is conservative.  89% of Republicans who identify with the Tea Party – and 84% of Republicans overall -- call themselves conservative. 
Graham may be one of the few politicians for whom multiple ideological classifications are reasons both for liking and for disliking him.  The words used to describe Graham by those with a favorable opinion of him include both "conservative" and "moderate."  Those who don't like Graham call him "conservative," but also call him a "rino," a Republican in name only.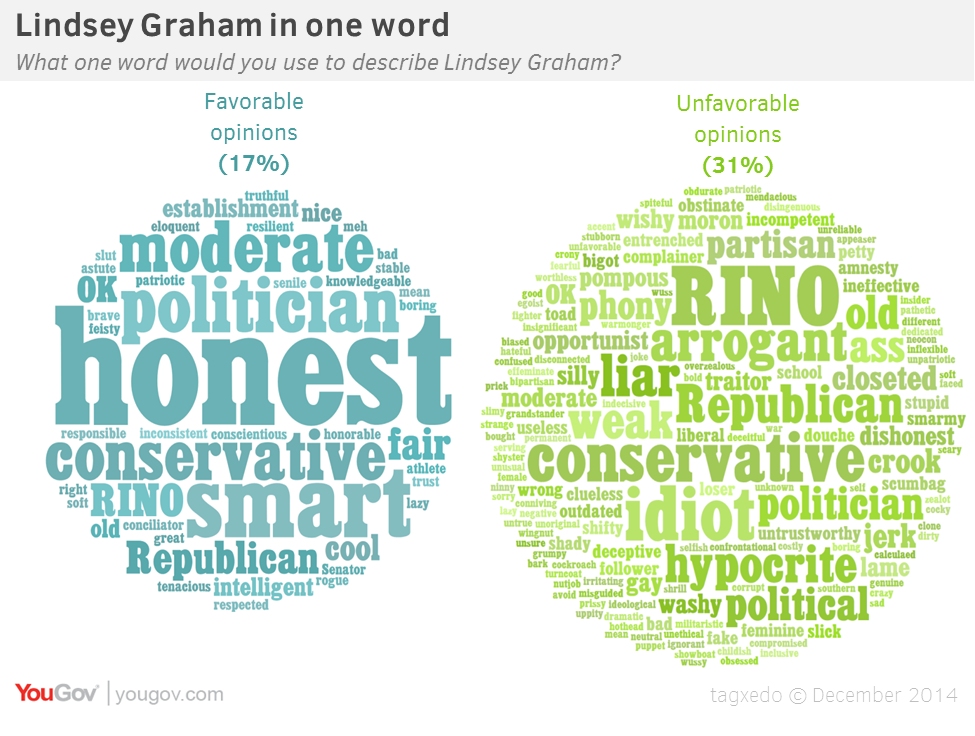 Those who like Graham mention that he is honest and smart; those who don't call him arrogant and not honest. 
This poll suggests that Graham may have a tough job convincing Republicans that he is qualified to be President.  There is certainly no groundswell of Republicans demanding that he run -- at least not as yet.   Only 12% of Republicans say they want Graham to run for President, and just 16% say he has the qualifications to do the job.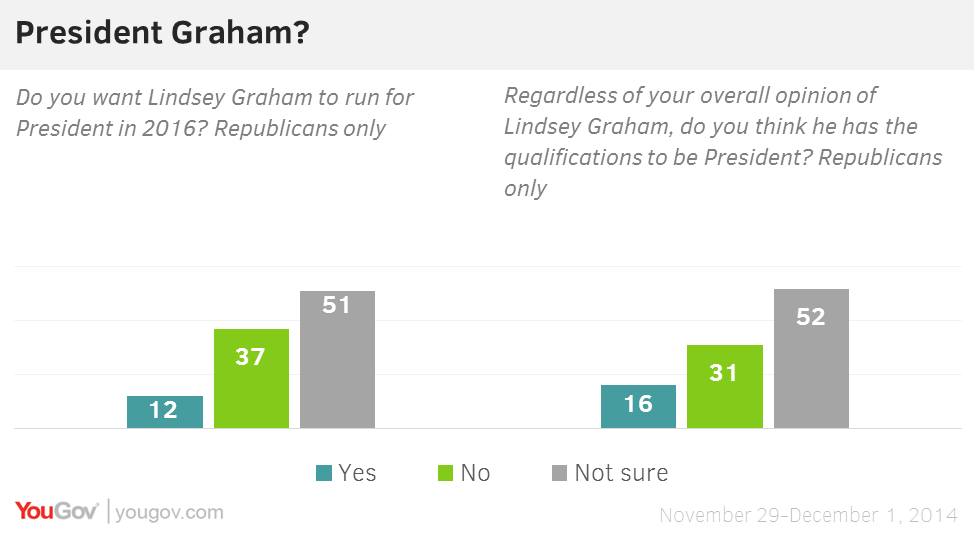 Economist/YouGov poll archives can be found here.