Americans tend to have a positive opinion of the Supreme Court, but a number of people who support gay marriage don't think that the court should rule it a constitutional right
This week the Supreme Court will announce their verdict on a number of landmark cases, including ones which will determine the future of the Affordable Care Act and whether or not same sex marriage will be legalized across the entire country. In King v. Burwell the Supreme Court will decide whether federal subsidies for health insurance should be available to people who bought their insurance on federal exchanges, while in Obergefell v. Hodges the nine justices will determine if same sex marriage is a constitutional right and whether states have to recognize same sex marriages performed in other states. 
49% of Americans favor allowing gays and lesbians to marry legally while 41% oppose allowing same sex marriage. Despite this 8% lead for the pro-same sex marriage camp, Americans narrowly tend to oppose (43%) rather than support (38%) the Supreme Court ruling that same sex marriage is a constitutional right and should be allowed in every state which currently forbids it.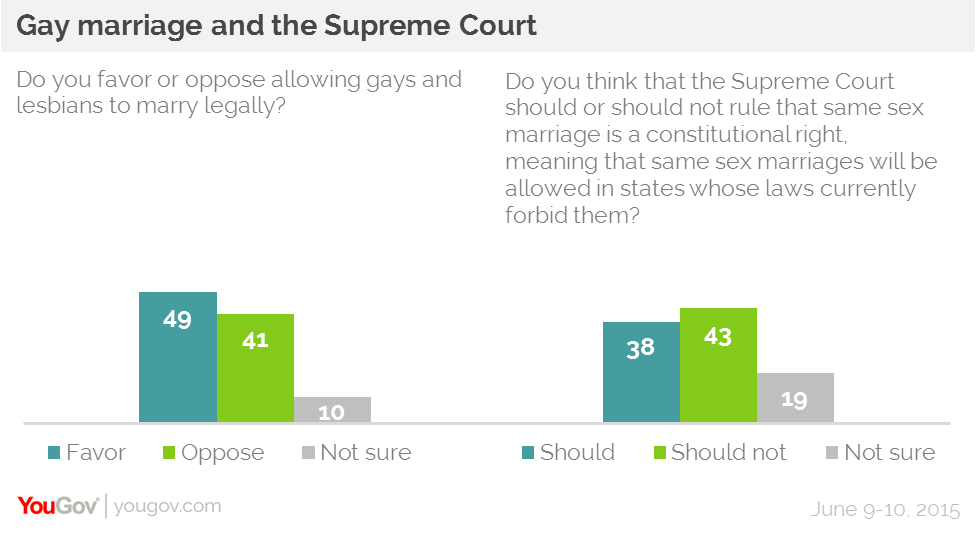 Among people who support same sex marriage 71% think that the court should rule it is a constitutional right, while 14% think that the court should not. 15% of same sex marriage supporters aren't sure either way.
Federal exchange subsidies
The other major decision faced by the court is whether or not individuals who purchase health insurance on federally run exchanges should be entitled to the same subsidies that are available to people who purchase insurance on state run exchanges. If the Court agrees with a lower court's ruling that the federal government cannot provide these subsidies millions of Americans would lose their health insurance and many states, particularly Republican-governed states, would face the awkward decision of either cooperating with the Obama administration to set up state exchanges or face large numbers of residents becoming uninsured. 
Americans tend to oppose (40%) rather than support (26%) the lower court's ruling that subsidies cannot be provided, but 34% are not sure either way, and only 33% of Americans actually say that they have been following the news of the threat to federal exchange subsidies. Most Democrats (54%) oppose the ruling to end these subsidies, while independents tend to oppose (38%) rather than support (24%) ending them. 38% of Republicans support this ruling, but 37% aren't sure and 24% oppose the ruling.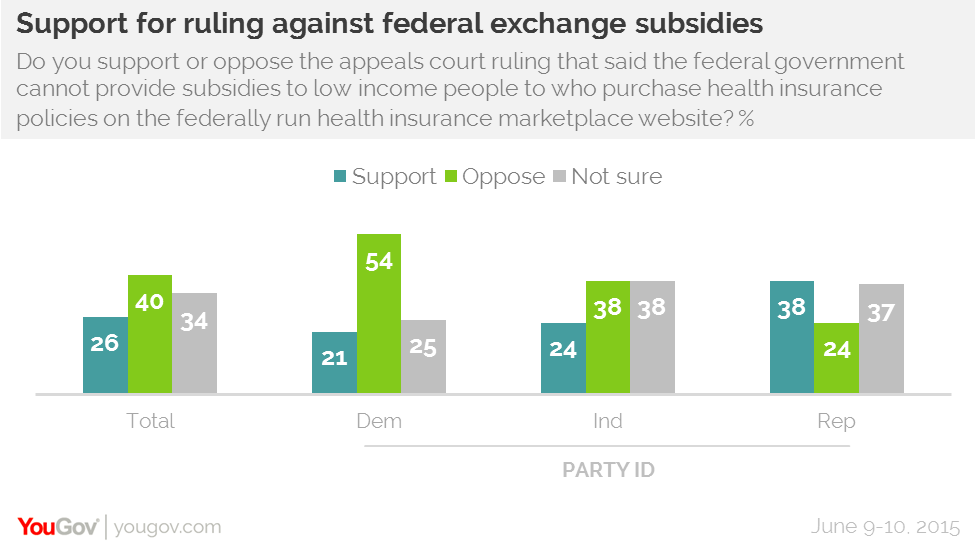 Opinions of the Court
Americans tend to have a positive opinion of the Supreme Court, with 45% viewing the court favorably and 34% seeing it unfavorably. When this question was last asked in November 2014 numbers were almost exactly reversed, with 45% of Americans having an unfavorable view of the Supreme Court and 37% a favorable view. Right now, the court has a slightly higher favorability rating among Republicans (54%) than among Democrats (49%).
Americans do, however, tend to think that the court is 'too mixed up in politics'. 49% of Americans agree with this statement and only 16% disagree, though Republicans (42%) are less likely to agree with this statement than Democrats (51%).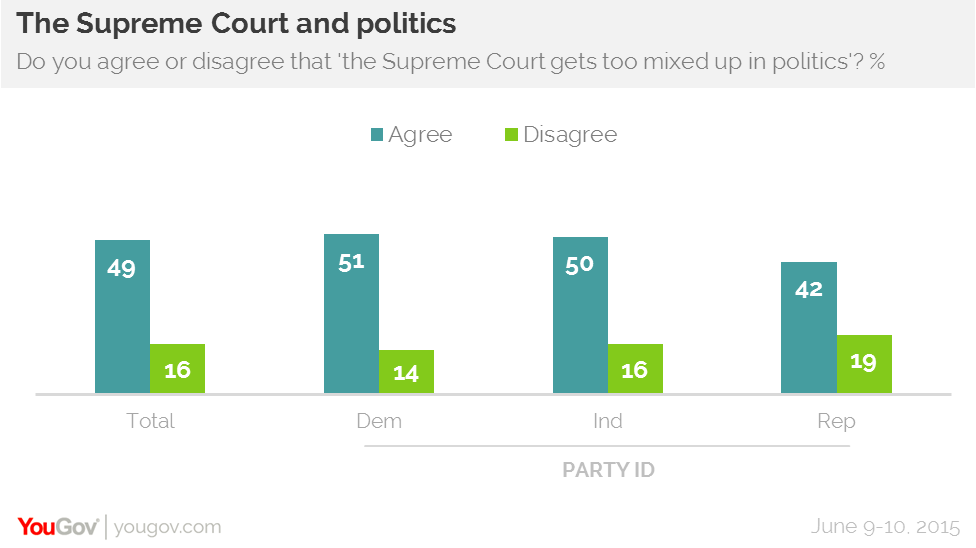 39% agree that the Supreme Court 'can usually be trusted to make decisions that are right for the country as a whole', something 24% of Americans disagree with. 
Full poll results can be found here and topline results and margin of error here.