Lyft's promotional and marketing spending blitz aimed to take market share away from Uber seems to be helping them. Lyft reached its highest perception score in mid-May, one month after passing rival Uber.
Not only have they grabbed the perception lead, Lyft has been slowly closing the brand awareness gap with Uber. That gap had been increasing until the end of last year. Raising $1 billion in new capital may have helped Lyft, although they still have a long way to go.
In early 2015, 48% of adults 18 and over were aware of the Uber brand, compared to 13% for Lyft, a difference of 35%.
By mid-December 2015, Uber's awareness hit the 75% mark versus 21% for Lyft, creating a 54% gap.
After the January 2016 fundraising announcement, Lyft introduced a series of aggressive giveaways and promotions. By the end of May, Uber's awareness climbed to 84%, while Lyft leapt 17 points to 38%, bringing the gap back down to 46%.
To track Lyft's and Uber's perception, YouGov BrandIndex measured them with its Buzz score, which asks respondents: "If you've heard anything about the brand in the last two weeks, through advertising, news or word of mouth, was it positive or negative?"
A score can range from 100 to -100 with a zero score equaling a neutral position.
Lyft's Buzz score had been hovering at neutral through the first nine months of 2015. Uber, which had been stuck in negative territory, reached parity with Lyft in June and moved ahead of it in September of 2015.
The scenario changed in February when Uber driver James Stanton shot eight people in Kalamazoo, MI, sending Uber in a tailspin down to a -7 bottom score one month later. While Uber is still slightly short of recovery levels at a 1 score, Separately, Lyft experienced a perception boost in mid-April, rising from a 1 score to its current score of 4.
Buzz: Lyft, Uber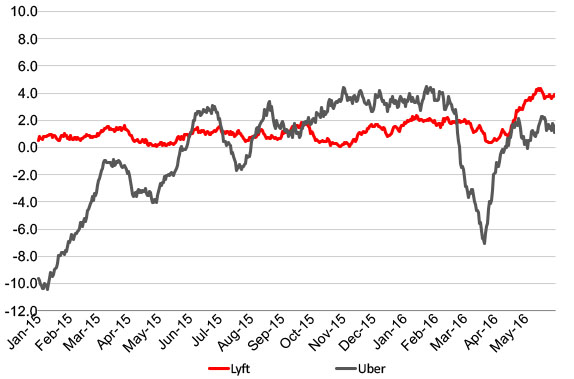 Awareness: Lyft, Uber