Overall impression of the motorcycle manufacturer is down
As Harley-Davidson prepares to announce its Q4 and year-end 2018 financial results on Tuesday, January 29, new data from YouGov Plan & Track suggests that the past 12 months have been tough for the iconic American brand in terms of consumer perception.
On January 1, 2018, when asked if they have an overall positive or negative impression of Harley-Davidson, US adults gave the motorcycle manufacturer a score of 35 on a scale ranging from -100 to +100. By late August, however, the brand's Impression score had declined to 22. As of December 31, the public's general feeling toward Harley-Davidson has climbed back up to 31, but is still ultimately lower than it was at the start of the year.
Two incidents in particular appear to have influenced the brand's Impression score throughout 2018.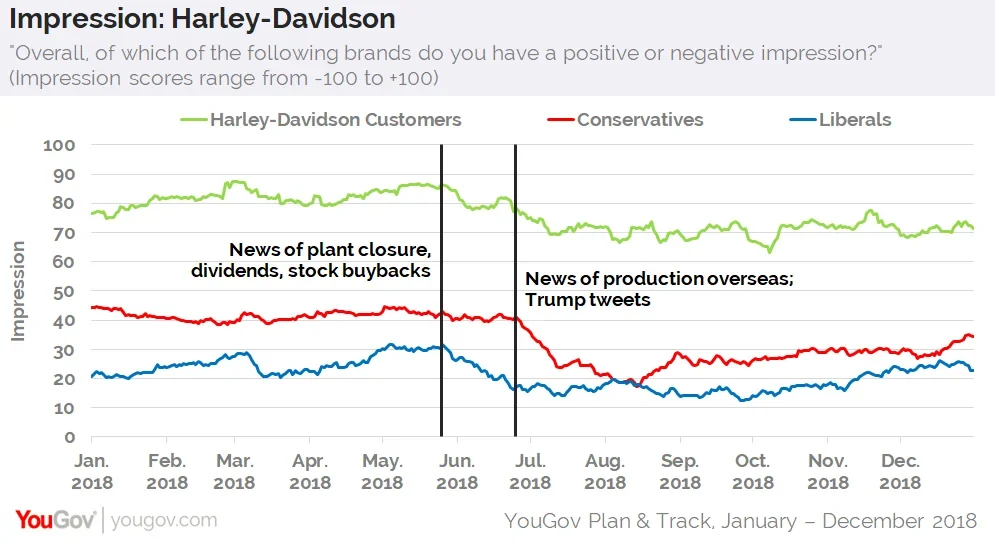 The first came in late May, when news publications such as NBC, Vox, and USA Today reported that Harley-Davidson was closing a plant in Kansas City while also scheduling a dividend increase and stock buybacks. All this came after the company had received financial benefits from the new corporate tax cut.
Around this time, Harley-Davidson's Impression score dropped among consumers who self-identify as liberal, as well as current and former customers.
The second incident occurred in late June, when Harley-Davidson announced plans to move some of its production overseas to avoid tariffs imposed by the European Union. President Trump wrote numerous tweets on the matter. "A Harley-Davidson should never be built in another country-never!" read one in particular.
This event seems tied to a decrease in Impression score among conservatives and Harley-Davidson customers, but not liberals. Indeed, while conservatives tend to rate the motorcycle brand higher than liberals on overall impression, for a brief period in August the two consumer groups were both giving the brand a score of about 20.
Photo: Getty