Burger King is undergoing what seems to be a backlash for its August 26th announcement that it is buying Canadian-based donut/coffee chain Tim Hortons for $11 billion. It has been widely reported that Burger King would move its headquarters to Canada, thereby saving millions in U.S. taxes.The Miami-based burger chain is experiencing its worst consumer perception levels in four-and-a-half years.
It could not have come at a more inopportune time: as YouGov BrandIndex reported a week before the announcement, Burger King's perception among fast food eaters has been on the rise since the beginning of the month, while the other two burger chains have been declining.
For this update, YouGov BrandIndex applied its Buzz score, which asks respondents "If you've heard anything about the brand in the last two weeks, through advertising, news or word of mouth, was it positive or negative," but in this case, for all adults 18+. Burger King went from a 13 score on August 20th to its current -1, which equals the same current score as McDonald's. A score can range from 100 to -100 with a zero score equaling neutral.
The Tim Hortons announcement also coincides with a distinct drop in Burger King's purchase consideration, one of YouGov BrandIndex's key potential revenue metrics. Currently, 28% of consumers 18+ say they would consider the chain the next time they are looking for fast food, down from 32% on August 26th. Burger King is now at its lowest purchase consideration levels since December 2013.
Burger King, McDonald's and Wendy's were measured with both their Buzz score and Purchase Consideration score. The Purchase Consideration score range is from zero to 100%. All respondents were adults 18+.
Buzz: Burger King, McDonald's, Wendy's, Tim Hortons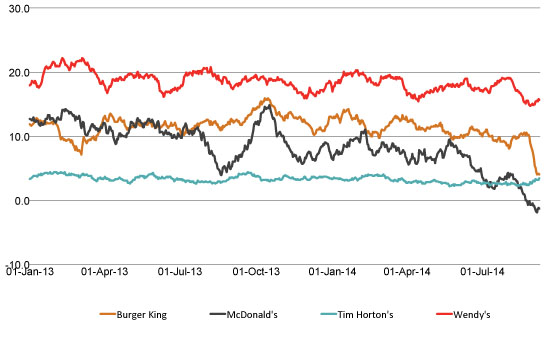 Purchase Consideration:
Burger King, Tim Hortons