The "Pay With Lovin'" campaign appears to have more people talking about McDonald's and even increased consumer consideration to buy food there, but seems to have been less effective making people's perception of the burger chain more positive.
After capturing the biggest word of mouth gain of Super Bowl advertisers with its "Pay With Lovin'" debut on February 1st, McDonald's continued upward for nearly two weeks afterward, betting on free meals given away randomly in exchange for acts of kindness.
Word of mouth levels reached its second highest levels in about a year and a half, with 29% of adults 18 and over reporting they talked about McDonald's with friends and family over the past two weeks compared to 24% just before the campaign broke.
Purchase consideration, a key measurement of potential future revenue, made a respectable increase during the campaign as well: on Super Bowl Sunday, 36% of consumers 18 and over said they would consider making their next fast food purchase at McDonald's – that number rose to 39% eleven days later. One possible reason for the increase: people hoping to be chosen randomly for a free meal or watch others asked to perform a task.
However, the campaign has not done much to persuade the public to think more positively about McDonald's. To measure this, YouGov BrandIndex used its Buzz score, which asks respondents: "If you've heard anything about the brand in the last two weeks, through advertising, news or word of mouth, was it positive or negative?" Buzz score can range from 100 to -100 with a zero score equaling a neutral position.
After consumers took a neutral stance (zero score) just before the Super Bowl, McDonald's Buzz score went down briefly to -1 over the next couple of days, then ended its promotion run on Valentine's Day with a 3 score. So in two weeks, this score was minimally impacted.
Buzz: McDonald's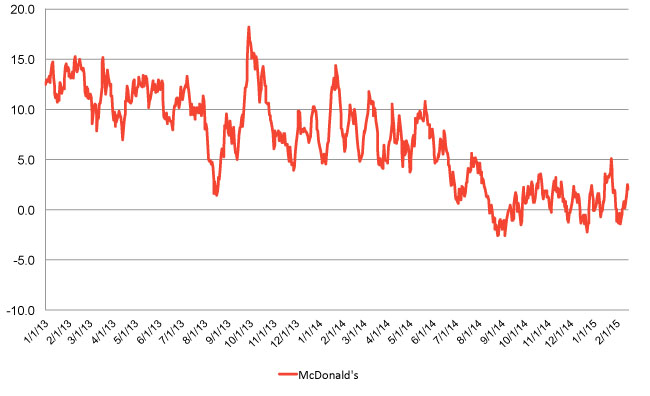 WOM: McDonald's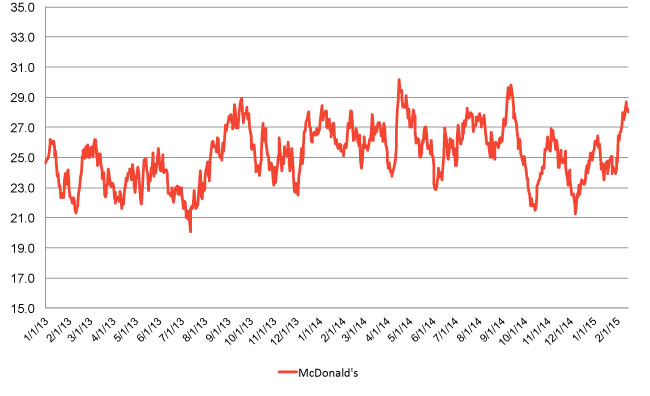 Purchase Consideration: McDonald's