A substantial boost in consumer ad awareness has not been able to give Sprint's "Cut Your Bill In Half" promotion "legs" since it debuted in early December.
After a notable swell in its first month, Sprint's purchase consideration has slowed down since early this year, and still lags behind its major rivals.
Sprint's ad spending in the past 11 weeks has certainly been noticed: 40% of consumers 18 and over were aware of recent advertising throughout December, up from 31% in November. While cooling off in January, it bounced back earlier this month, up to 39%.
The campaign had a reasonably good start, increasing purchase consideration – the percentage of consumers who say they would consider purchasing from the brand the next time they are in the market to buy, from 10% to 13% among US adults 18+. However, Sprint slipped back to the 9% to 10% range in the New Year, keeping them behind the rest of the competitive pack.
Sprint's value perception had some ups and downs during the period, but remained in negative territory for most of the last four months. That indicates that more consumers give it a negative rating on value than those who give it a positive rating. Meanwhile, Verizon Wireless and T-Mobile have maintained their value lead in the category, and have both been on an upswing in the month of February. Verizon Wireless recently cut prices on its data plans.
Buzz: AT&T, Sprint, T-Mobile, Verizon Wireless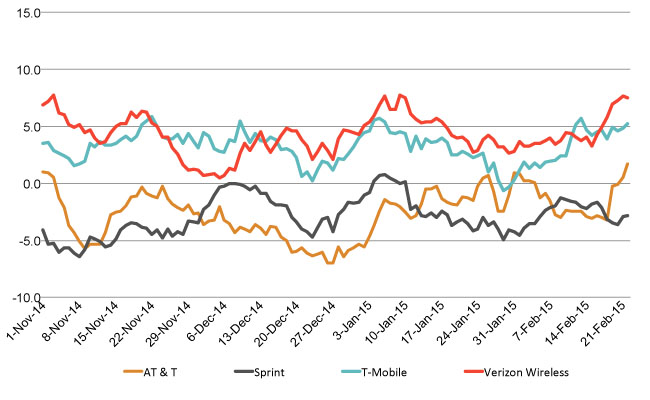 Ad Awareness: AT&T, Sprint, T-Mobile, Verizon Wireless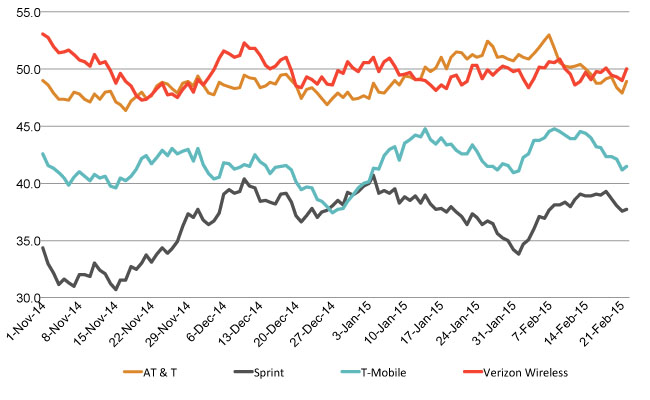 Purchase Consideration: AT&T, Sprint, T-Mobile, Verizon Wireless