Apple's March 9th press conference demonstrating its forthcoming watch appears to have caused a spike in attention and word or mouth, although less than half the levels generated around the iPhone 6' announcement last September.
One possible encouraging sign for Apple: after both product announcements, purchase consideration, an important measurement of potential revenue, moved up 5%, based on a scale range of zero to 100%. Purchase consideration measures the percentage of consumers who would consider purchasing from the brand the next time they are in the market to purchase a tech product.
Here is how each of these two recent major product announcements was welcomed by consumers:
Attention: The amount of attention paid to the Apple Watch jumped from 35% of all adults 18 and over hearing something about Apple a couple of days before the press conference to 41% one week later, before starting to taper off. Compare that to last September's iPhone 6 event, when attention started rising at 31% more than a week before the September 9th press event, eventually peaking at 51% on September 16th, one week afterward. That's a 20 point jump in September versus just six this month.
Word of Mouth: For the watch, the company's word of mouth began rising on March 7th, starting from 19% of all adults 18 and over talking about Apple with friends and family to 26% one week later. Compare the 7 percentage point jump to the iPhone 6 news, also starting with 19% on the day of the press event, eventually hitting 30% on September 27th, a difference of 11 percentage points.
WOM: Apple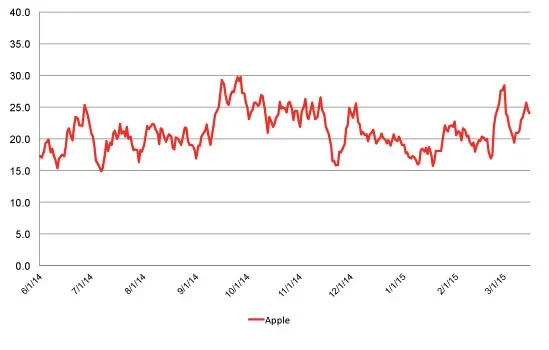 Attention: Apple