Visa US has improved its brand image and overtaken its UK counterpart
Visa Inc, the world's largest payments network, has agreed a deal to buy London based Visa Europe Ltd. for £15.11 billion, reunifying the brands eight years after their separation in October 2007. The move is expected to strengthen Visa's position against its primary competitor MasterCard, a company which which already owns its European businesses outright.
YouGov BrandIndex data shows that Visa's reputation score in the US has improved markedly in the past eight years. Reputation is a measure of whether people would be proud to work for a particular brand, and since the financial crisis many companies in the financial sector have found it hard to maintain a good name.
Even at the peak of the economic crisis (2008-2010) Visa in the US managed to limit the fall of its reputation score to just under 10 points and it never fell into negative territory. Since May 2010 its reputation score in US has been growing and in January 2012 it overtook its UK score.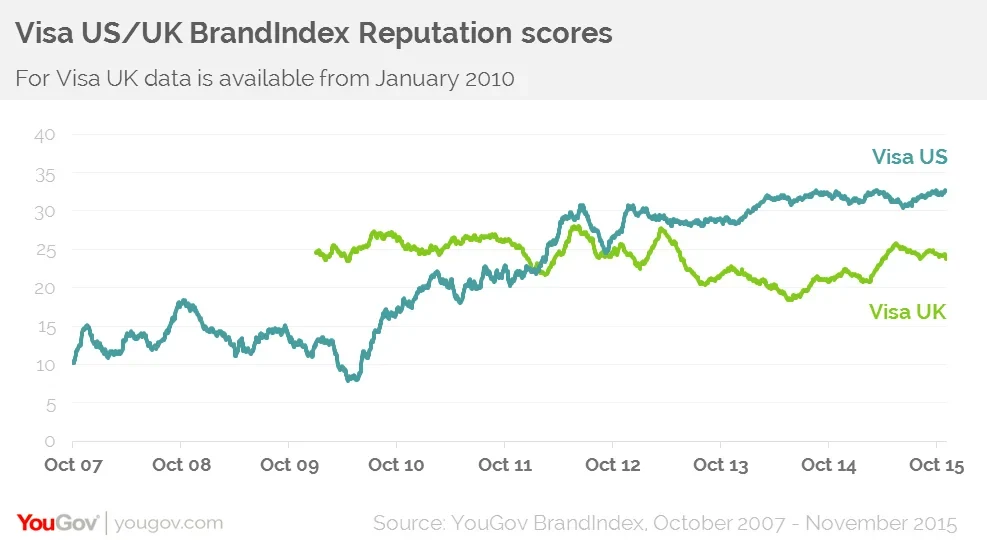 In the eight years its European and US operations have been separate, Visa's reputation has significantly grown in the US. In 2007, of 61% those with an opinion said they would be proud to work for the brand - a figure that now stands at 88%.
YouGov BrandIndex in the UK over the past five years shows that Visa has sustained an average reputation score of 25. Currently, 88% of the people in Britain familiar with the brand have a positive opinion about Visa compared to 12% who say they have a negative perception of it. The rest are neutral.