Nike has the highest consumer perception among US teens as well as adults 18+.
Using its Buzz score to measure consumer perception, Nike's score is nearly three times higher among US teens. Vans, Jordan, Adidas and Converse round out the top five apparel and footwear brands among US teens.
Skechers, New Balance, Under Armour and Adidas round out the top five among adults 18+.
Skechers and New Balance score higher among adults than they do with teens. In contrast, Under Armour, Adidas and Converse, like Nike, all score significantly higher among teens.
Stronger teen positioning for Skechers and New Balance could imply a promising future for those brands, if they are able to stay relevant with those consumers as they grow older.
Nike is the one brand that enjoys similar awareness levels among adults and teens – about 95% of both groups say they are aware of the brand. All the other aforementioned brands have higher awareness levels with adults than they do with teens.
YouGov Brandndex measures perception with its Buzz score, which asks respondents: "If you've heard anything about the brand in the last two weeks, through advertising, news or word of mouth, was it positive or negative?"
Buzz: Apparel and Footwear, Teens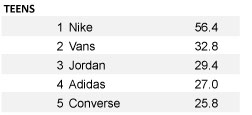 Buzz: Apparel and Footwear, Adults 18+