Four key consumer perception metrics have been soaring simultaneously for Buffalo Wild Wings since April, likely fueled by a well-timed group of viral pranks and promotions.
Three of the four rising metrics – General Impression, Quality, Recommend -- have all hit eight-year high levels for the chain, even topping what would be considered Buffalo Wild Wings' annual nexus, the Super Bowl.
The last metric, Purchase Consideration, may portend higher sales since it is an indicator of potential sales revenue. Since mid-April, the percentage of consumers who would consider purchasing a meal at Buffalo Wild Wings the next time they dine out for fast food moved up from 13% to 16%.
Possible explanations for Buffalo Wild Wings' impressive multi-metric rise:
In late May, BWW posted a video prank on two die-hard Yankees fans "talking trash" about rival Boston Red Sox player David Ortiz listening in the next room that went viral on YouTube. Ortiz appears covered in BWW clothing and merchandise.
In mid-May, BWW became a major sponsor of new eSports tournament ELEAGUE, which airs on mainstream cable channel TBS.
At the same time, the chain announced a limited time offer takeout pack for Ultimate Fighting Championship (UFC) events 198, 199 and 200. The events would be screened at more than 900 of BWW's restaurants.
YouGov BrandIndex's General Impression, Quality and Recommend scores are measured in range from 100 to -100 with a zero score equaling a neutral position.
General Impression ("Do you have a general positive feeling about the brand?"): With the last peak on January 21st with an 18 score, about 10 days before the Super Bowl, Buffalo Wild Wings is currently at 20.
Quality (""Is it high quality or low quality?"): Now at a 17 score, its previous high was 15 back in mid-April 2014.
Recommend ("Would you recommend the brand to a friend?"): Currently at 16, its previous high was in November last year at 15.
CONSIDERATION

IMPRESSION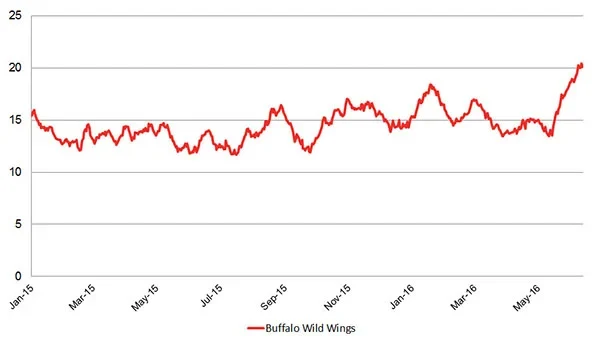 QUALITY