Hillary Clinton leads Donald Trump by nine points in a new YouGov Affluent Perspective survey, which measures public opinion among adults in households earning $150,000 or more
Like many Americans, affluent households throughout the United States have been riveted by the political theater of the race for the White House.
According to a YouGov Affluent Perspective survey, which gauges the sentiment of U.S. adults in households with incomes of $150,000 or higher, 77% of affluent Americans are extremely or very "concerned" about the upcoming presidential elections. Seventy-three percent are either extremely or very closely following news about the election, driven primarily by Boomers (age 52-70) and Matures (age 71+). In total, 93% of affluent Americans are paying at least some attention to the news related to the presidential campaigns.
According to the survey, former Secretary of State Hillary Clinton is the preferred choice among the nation's wealthiest voters to become the 45th President of the United States, leading businessman Donald Trump 44% to 35%. Libertarian candidate Gary Johnson checks in at 7%, while 'someone else' receives the support of 4% of respondents. Undecided voters comprise 10% of the field. Secretary Clinton's support is being driven by affluent Millennials (54%), and she also has an eleven-point edge among Independents.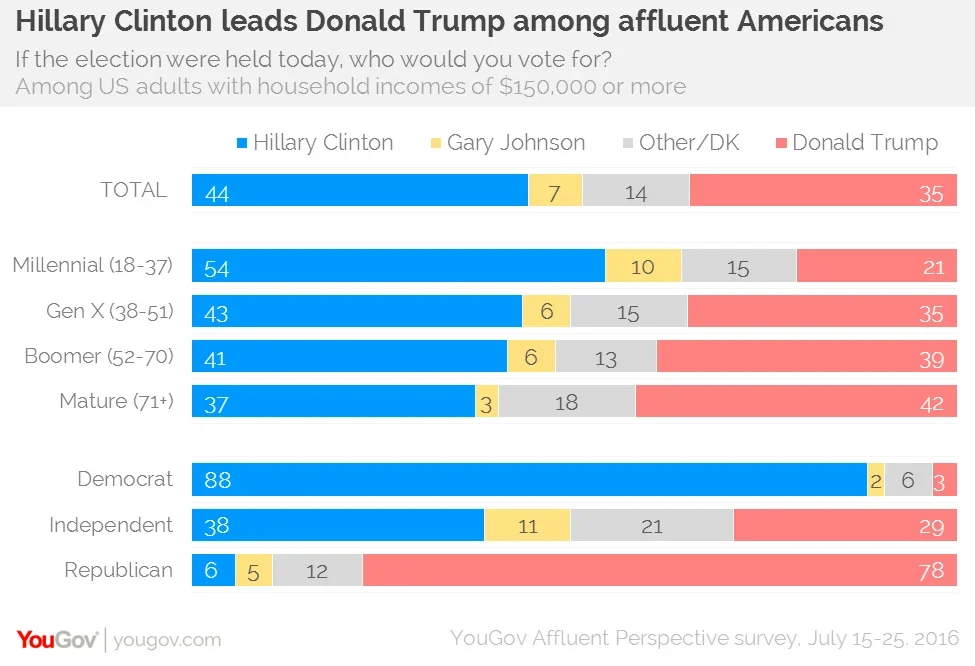 The interviews were conducted July 15-25, before the Democratic National Convention and overlapping with the Republican National Convention. In 2012, Republican presidential candidate Mitt Romney won 54% of the vote among voters from households with incomes over $100,000, according to exit polls.
When asked whom they think is most likely to win the presidential election, regardless of which candidate they support, Secretary Clinton is a strong favorite among affluent voters, leading Trump 61% to 23%. Among affluent Republicans, of which 78% claim that they will vote for Mr. Trump, only 45% believe that he will actually win.
All figures, unless otherwise stated, are from YouGov Plc. Total sample size was 1,251 adults with household incomes of $150,000 or higher, each of whom participate in the YouGov Affluent Perspective Global Study. Fieldwork was undertaken from July 15-25, 2016. The survey was carried out online. The figures have been weighted and are representative of US adults (aged 18+) with incomes of $150,000 or higher. The margin of error is +/- 3%.