Despite recent high profile terrorist attacks in France and Germany in July 2016 - including in Nice, a popular vacation destination on the Mediterranean Sea - high-income earners are just as likely to maintain their international travel plans as they were after a series of international acts of terror in the spring.
According to a YouGov poll of U.S. adults with $100,000 or more in annual household income, travelers remain committed to their plans, as only seven percent indicate that they have cancelled a booked trip due to the terror attacks in July. Rather, a "wait and see" approach has taken over as the number of high-income earners considering delaying the booking of a planned international trip has increased to 16% from six percent in November.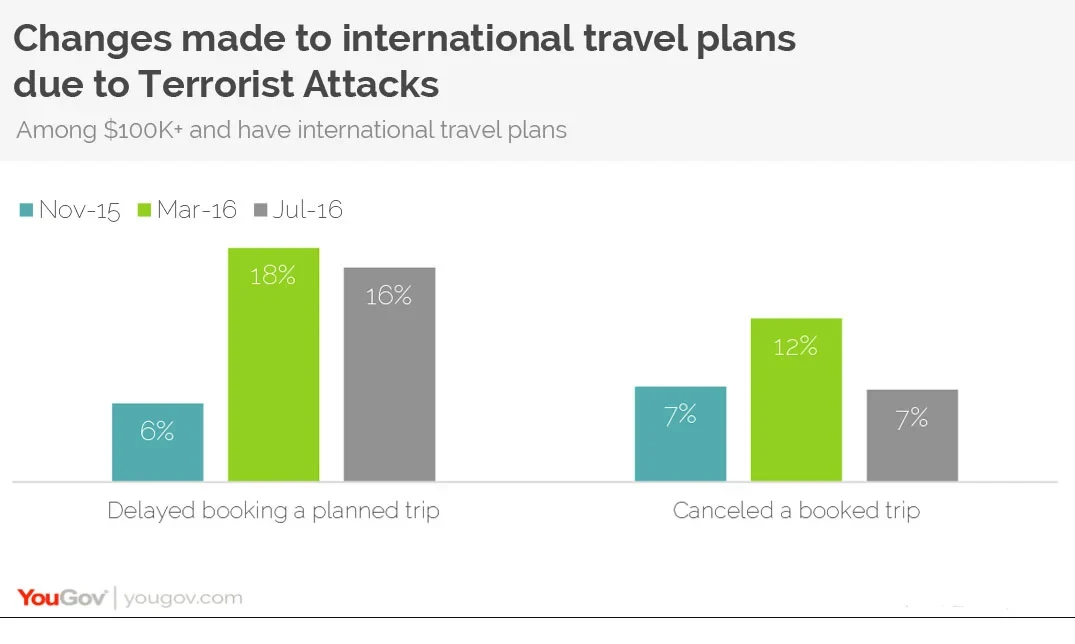 When asked about the role media coverage plays in their interest in traveling overseas, 81% of high-income travelers with international travel plans agree that it does affect their decision. Furthermore, 74% of high-earners say that they can imagine a time in the future where they will not want to travel to a country, up from 62% in March.
Ten percent of high-earning travelers are registering with the local U.S. embassy at their destination, a safety precaution that was rarely pursued (zero percent) according to polling conducted in November. The number of high-earners purchasing travel insurance has also increased since November from one percent to 13%. In addition to terrorism, political unrest - such as the coup attempt in Turkey and the Brexit vote in the U.K. - is causing some disruption to travel. As part of their preparation process, 88% are taking steps to educate themselves on a country before visiting.
As news stories about terrorist activity become increasingly regular, more recognize ISIS as the biggest threat to United States national security but they believe that changing their travel plans or placing restrictions on them is the equivalent of letting terrorists dictate how they live their life.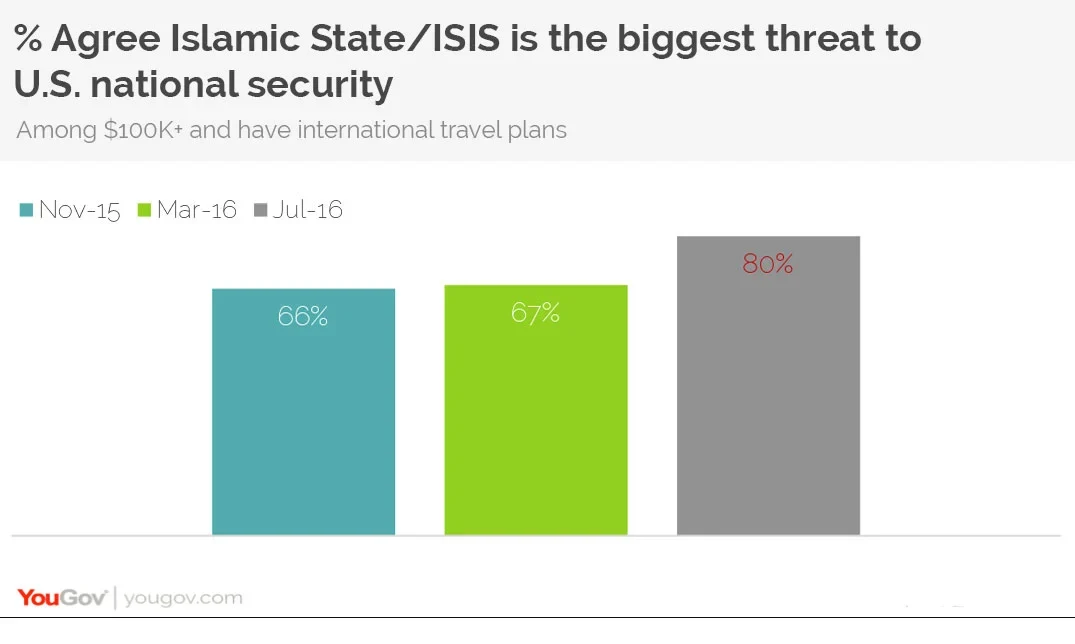 Despite uncertainty in many parts of the world, Americans remain passionate about travel. Since 2011, the number of overseas travelers has increased by 5.8 million, to a high 32.8 million travelers in 2015, according to the U.S. Department of Commerce. The number of valid U.S. passports in circulation has also increased to a high in 2015 of 125.9 million, up 13% since 2011, according to the U.S. Department of State.
All figures, unless otherwise stated, are from YouGov Plc. Fieldwork was undertaken between November 23-24, 2015, March 25-28, 2016 and July 27-28, 2016. The survey was carried out online. Total sample has been weighted and are representative of all US adults (aged 18+). Interviews totaled 1,064 in November, 1,153 in March and 2,041 in July, with 136 in November, 149 in March and 205 in July who earn $100,000 or more per year. The margin of error among $100,000+ consumers is 6-7%. Changes referred to as "increasing" or "decreasing" are statistically significant at the 95% confidence level.
YouGov Affluent Perspective conducts an annual study of high-income and high-net-worth consumers in 12 countries around the world. The study in the United States includes more than 2,500 interviews and represents the top 10% of consumers, those who earn a minimum of $150,000 per year. The study offers data and insights among the world's most influential consumers. Analytical groups including the top 2% income earners and the wealthy (those with $10 million or more in wealth). To find out more about this study click here.