Maybe the third time will be the charm for Olive Garden's Never Ending Pasta Pass promotion this Thursday: its first two annual deals generated negative or indifferent consumer perception scores respectively, even if people talked about the brand a lot more each time.
As a business builder, the promotion hasn't seemed effective so far. Each of the first two promotions barely moved Olive Garden's Purchase Consideration scores, YouGov BrandIndex's key metric of potential sales revenue.
As a word of mouth generator, the annual deal has been undoubtedly successful: YouGov BrandIndex's Word of Mouth scores – indicating consumers talking about the Olive Garden brand with family and friends – have gone up several percentage points each of the first two times the promotion was run.
However, it appears that the promotion is a work in progress with uneven results so far. After the first pasta pass offer in September 2014, Olive Garden's consumer perception levels were cut in half after a backlash formed over the 2,000 passes selling out in a few seconds . Last year, Olive Garden added family passes, nudging perception levels up modestly. This year, Olive Garden will sell 10 times as many passes as last year.
YouGov BrandIndex measured Olive Garden with three metrics: 1) Buzz score, which asks respondents: "If you've heard anything about the brand in the last two weeks, through advertising, news or word of mouth, was it positive or negative?"; Word Of Mouth: "Which of the following brands have you talked about with friends and family in the past two weeks (whether in person, online or through social media)?"; and 3) Purchase Consideration: "When you are in the market next to purchase items in this particular category, from which of the following brands would you consider purchasing?"
Buzz scores can range from 100 to -100 with a zero score equaling a neutral position. Word Of Mouth and Purchase Consideration are expressed in a range from zero to 100%.
Olive Garden: Buzz, WOM, Purchase Consideration 2014 Promotion Period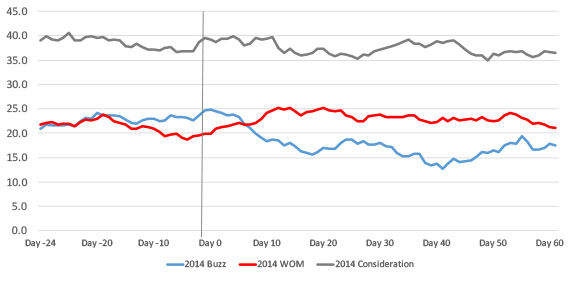 Olive Garden: Buzz, WOM, Purchase Consideration 2015 Promotion Period