Actor Matthew McConaughey's first advertising directorial effort as Wild Turkey's creative director seems to be off to a slow start.
Wild Turkey's consumer perception levels received a small, but short-lived bump up shortly after McConaughey was announced and the bourbon company released a video of the actor visiting their factory. But the small increase peaked on August 25th, and has since returned to pre-announcement levels.
Historically, Wild Turkey has not achieved the same perception or purchase consideration levels as the average spirit brand. It remains to be seen of the new spot or future ads will close that gap.
YouGov BrandIndex measured Wild Turkey with two metrics: 1) Buzz score, which asks respondents: "If you've heard anything about the brand in the last two weeks, through advertising, news or word of mouth, was it positive or negative," and 2) Purchase Consideration: "When you are in the market next to purchase items in this particular category, from which of the following brands would you consider purchasing?"
Buzz scores can range from 100 to -100 with a zero score equaling a neutral position. Purchase Consideration is expressed in a range from zero to 100%.
Buzz: Wild Turkey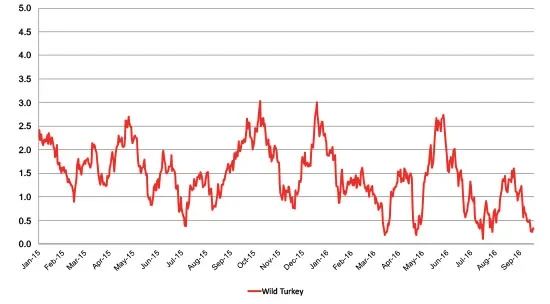 Consideration: Wild Turkey