Five weeks into Pizza Hut's new character-driven "No one out pizzas the Hut" ad campaign - featuring a homesick alien and a man in a head-to-toe body cast - has attracted people's attention, but potential revenue metrics remain unmoved so far.
The campaign is agency Droga5's first work for the pizza chain, which has run through five ad agencies in just over six years. Droga5 won the account this past May. Since the campaign's debut around September 22nd, two key metrics have shown promise for Pizza Hut so far…
Awareness for Pizza Hut's ads ticked up from 35% of adults 18 and over, to 39% for the past nine days. That represents a significant improvement, closely matching the brand's 2016's ad awareness highs, only outstripped by their Super Bowl campaign (during which ad awareness reached 43%).
Word of Mouth reached their highest levels since early May, when 14% of adults were talking about Pizza Hut with their family and friends, now up to 18%. Post Super Bowl, Pizza Hut's Word Of Mouth peaked at 20%.
However, the ads have not been enough to push consumers to consider Pizza Hut more for their next fast food purchase. Purchase Consideration has been flat since early September, three weeks before the campaign broke, with 29% of adults considering Pizza Hut the next time they are looking to dine out.
For all its difficulties raising Purchase Consideration, Pizza Hut tracks well above the average for top national quick service restaurants (QSRs). While Pizza Hut currently holds at 29% purchase consideration, the sector average for top national QSRs is 20%.
Ad Awareness: Pizza Hut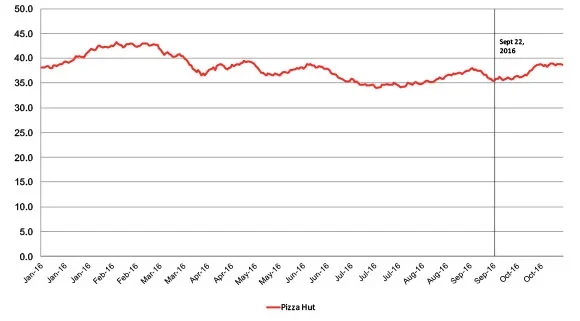 WOM: Pizza Hut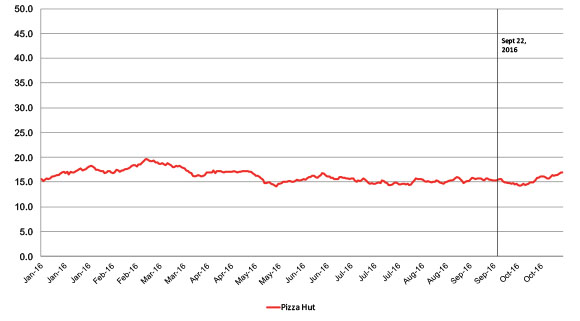 Purchase Consideration: Pizza Hut, QSR Sector (Top National)