While both groups indulge in shopping, H&M customers are far more likely to consider themselves well-dressed
With Thanksgiving in the rearview mirror, H&M has released a nearly four-minute-long holiday ad titled "Come Together." Directed by the symmetry-obsessed Wes Anderson, the short film stars Adrien Brody as a train conductor tasked with trying to save Christmas for his passengers after challenging weather conditions cause extensive delays.
The commercial is stylish and cool, quirky and fun. No doubts there. But the bigger concern for H&M is, as always, if the spot resonates with the brand's intended audience.
A glance at the likes-to-dislikes ratio on YouTube, where the ad is hosted, implies that the vast majority of viewers enjoy it. (At present, the total is 80,725 likes to 5,089 dislikes.) A look at YouGov Profiles, however, reveals much deeper connections between H&M's current customers and people who admire the work of Wes Anderson, whose past films include The Grand Budapest Hotel, Moonrise Kingdom, and The Royal Tenenbaums.
First, H&M shoppers are most likely to live in cities, vote Democrat, and fall within the 18-34-year-old age range. 70% are female. Anderson fans are also most likely to live in cities, vote Democrat, and belong to the Millennial generation. Gender-wise, however, Anderson fans are perfectly split down the middle: 50% male, 50% female. So far, pretty good.
Analysis of retail attitudes reveals further overlap. 76% of H&M customers and 80% of Anderson fans, for instance, indicate that they value the opinion of experts when choosing products, compared to just 68% of Millennials aged 18-34. Meanwhile, 70% of H&M customers and 69% of Anderson fans admit they sometimes spend a little extra on things they don't necessarily need — an attitude held by 62% of Millennials in general and 57% of the public at large.
At the same time, 61% of H&M customers say they keep up to date with current fashion trends, compared to just 32% of Anderson fans. 78% of H&M customers also consider themselves a well-dressed bunch, while the same is true for only 51% of Anderson's acolytes — a number eight percentage points lower than the average US adult. Perhaps the most concerning statistic is this: 44% of H&M customers say they spend a lot on clothes, compared to 17% of Anderson fans.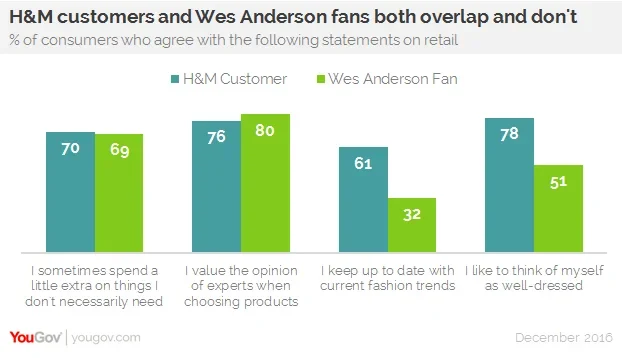 Overall, however, the two groups appear to be a good pair, in that current H&M customers are twice as likely to report admiring Wes Anderson as a director than the average American.