After a steep drop, GrubHub is still in negative consumer sentiment one month after CEO Matt Maloney's post-Election Day employee memo condemning Donald Trump-like "behavior," according to YouGov BrandIndex.
As we've seen in past incidents, when CEO comments tread into political territory, the potential perception backlash can be swift and sometimes persist for weeks. This was true in the wake of Obamacare's 2012 Supreme Court approval, when executives threatened to hike customer prices. Perception for those brands almost uniformly dropped down for a significant amount of time.
To measure the month-long impact of GrubHub's incident, YouGov BrandIndex used its Buzz score, which asks respondents: "If you've heard anything about the brand in the last two weeks, through advertising, news or word of mouth, was it positive or negative?" A score can range from -100 to 100 with a zero score equaling a neutral position.
GrubHub tracked positively and steadily for nearly the past two years, floating Buzz scores in the 7 to 8 range. On November 9, CEO Maloney issued a companywide e-mail that said: "While demeaning, insulting and ridiculing minorities, immigrants and the physically/mentally disabled worked for Mr. Trump, I want to be clear that this behavior - and these views, have no place at GrubHub."
Despite Maloney walking the comments back the next day, saying they were "misconstrued," GrubHub's Buzz score fell to -5 over the next two weeks, and only recently inched up to -4. The score was mainly pushed down by Republican-affiliated consumers, with independents significantly contributing to the downturn as well.
Buzz: GrubHub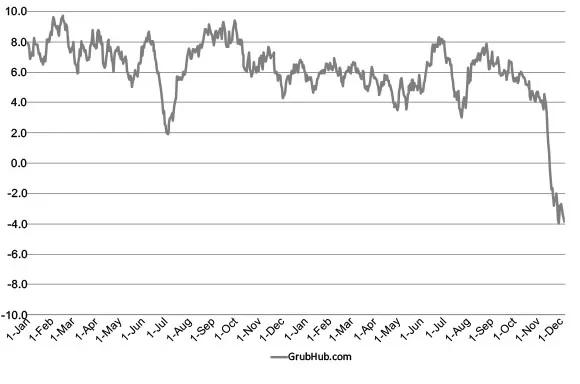 Buzz: GrubHub by Party Affiliation